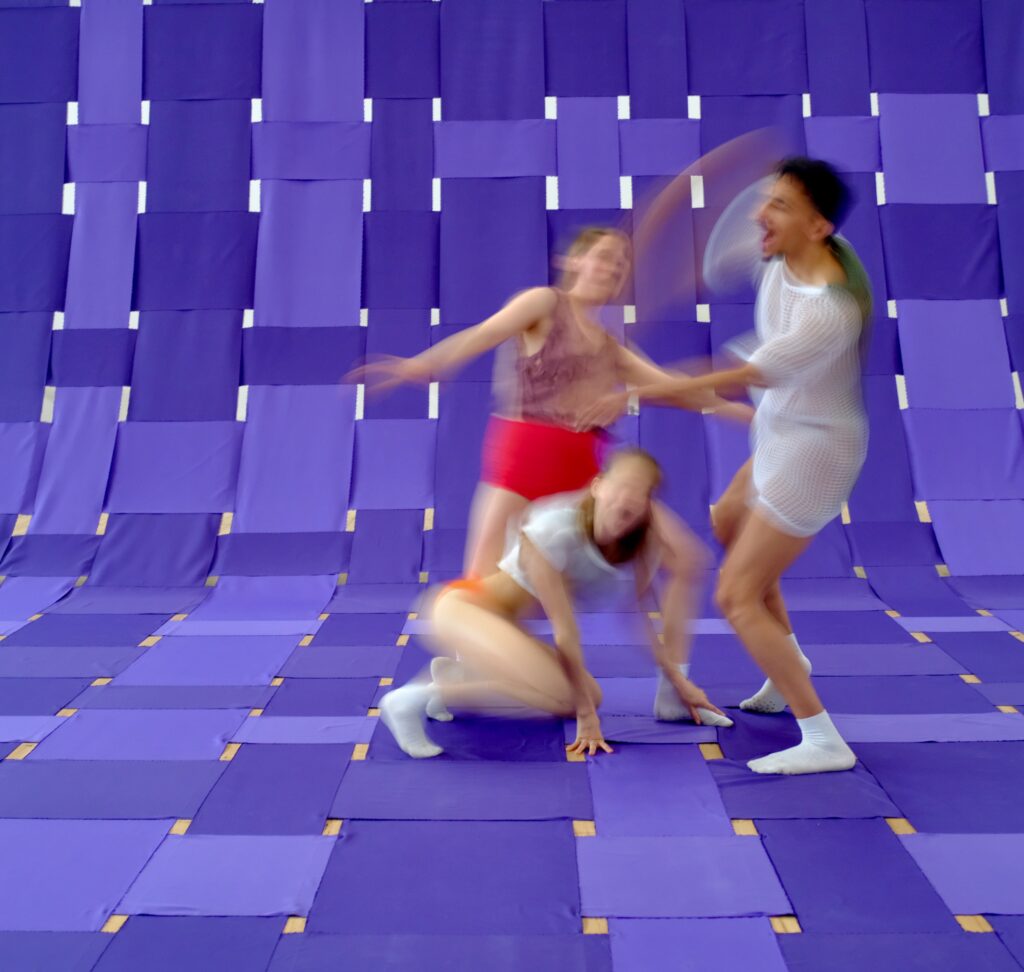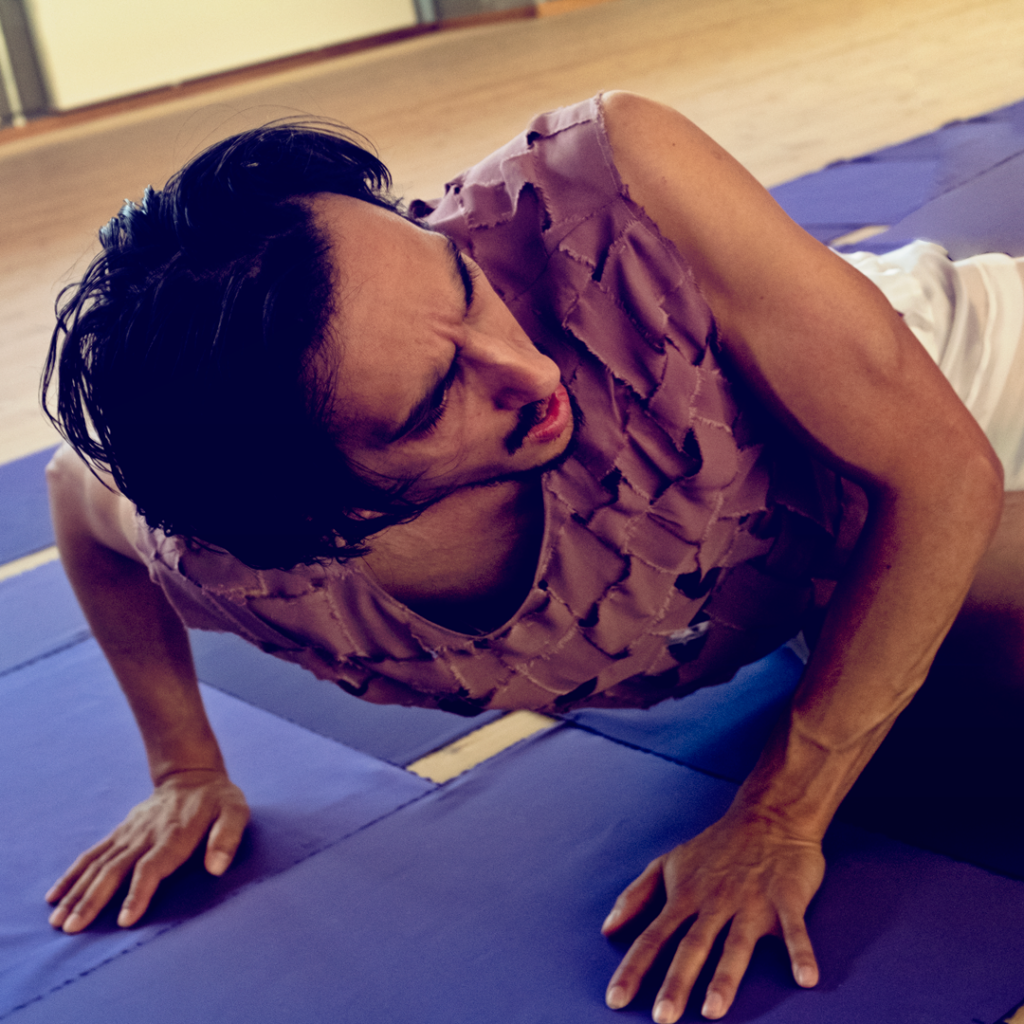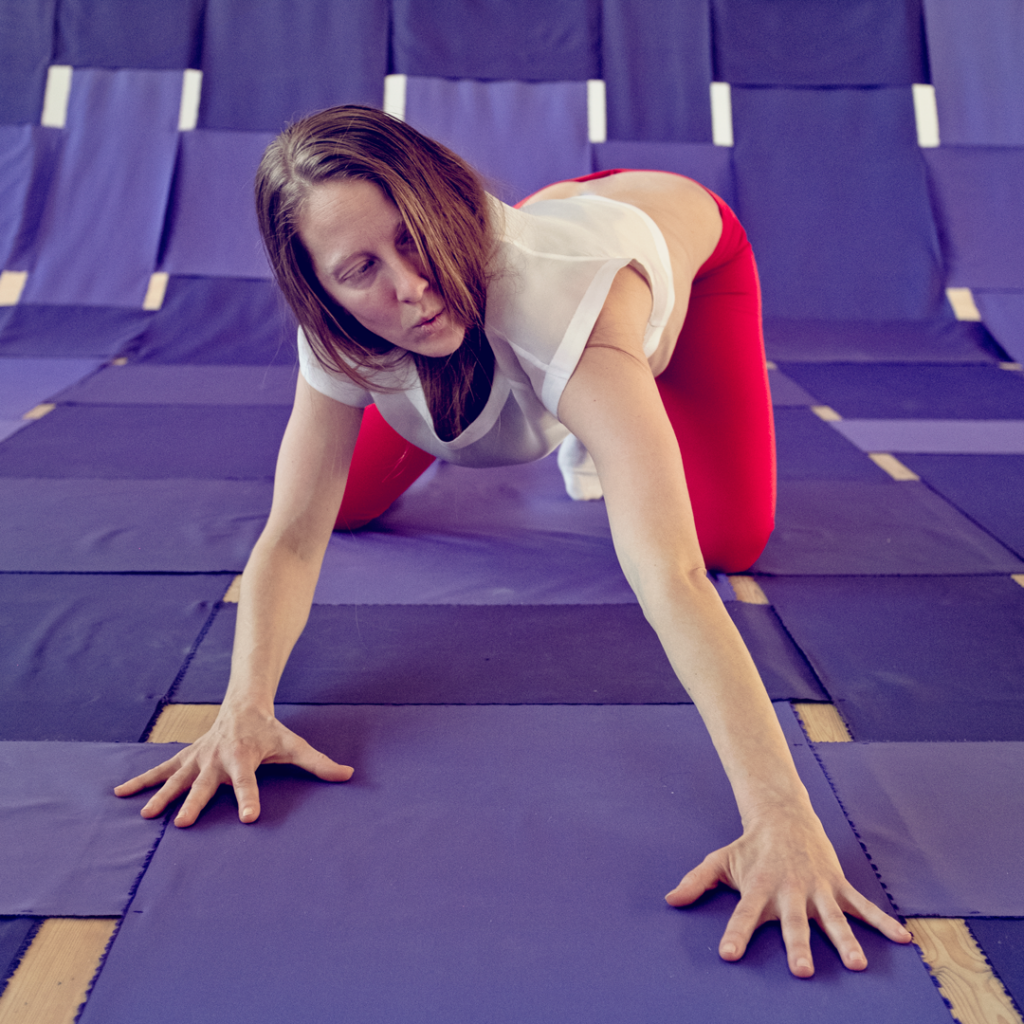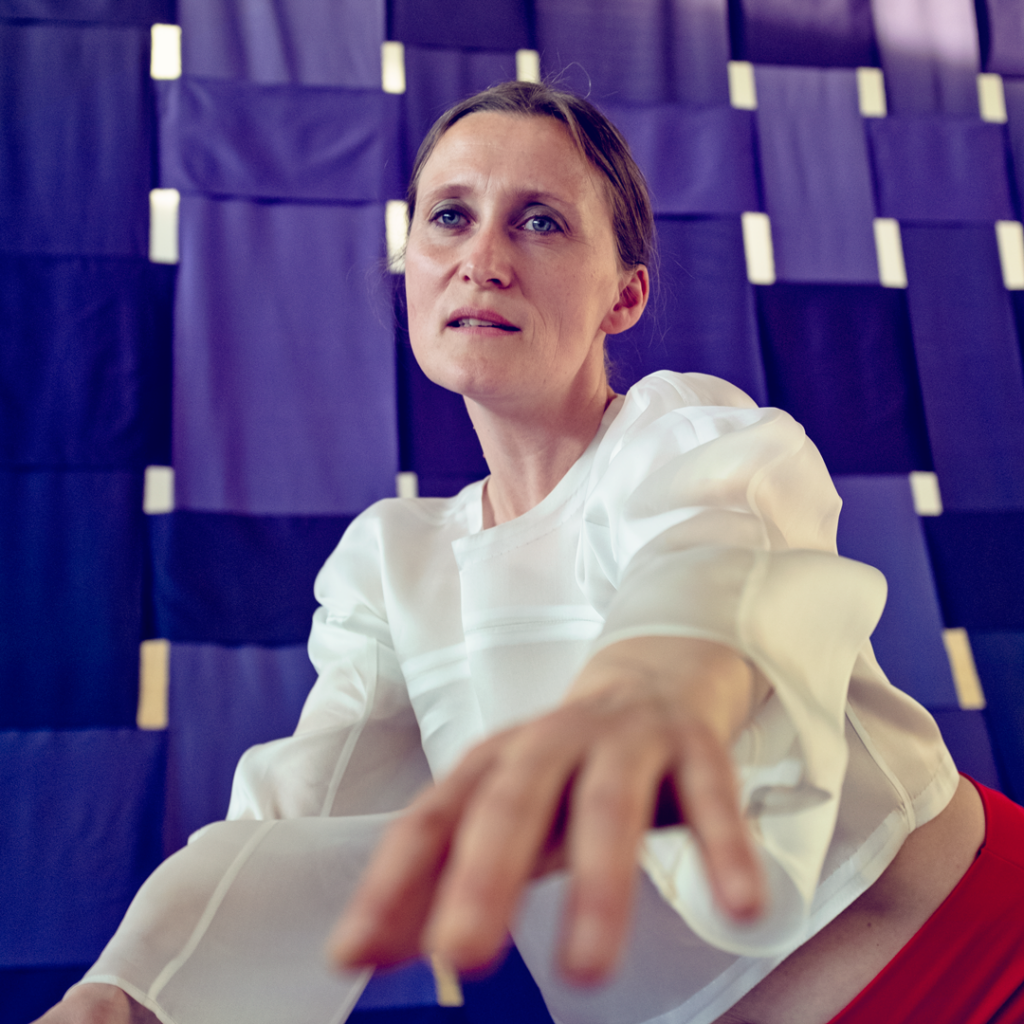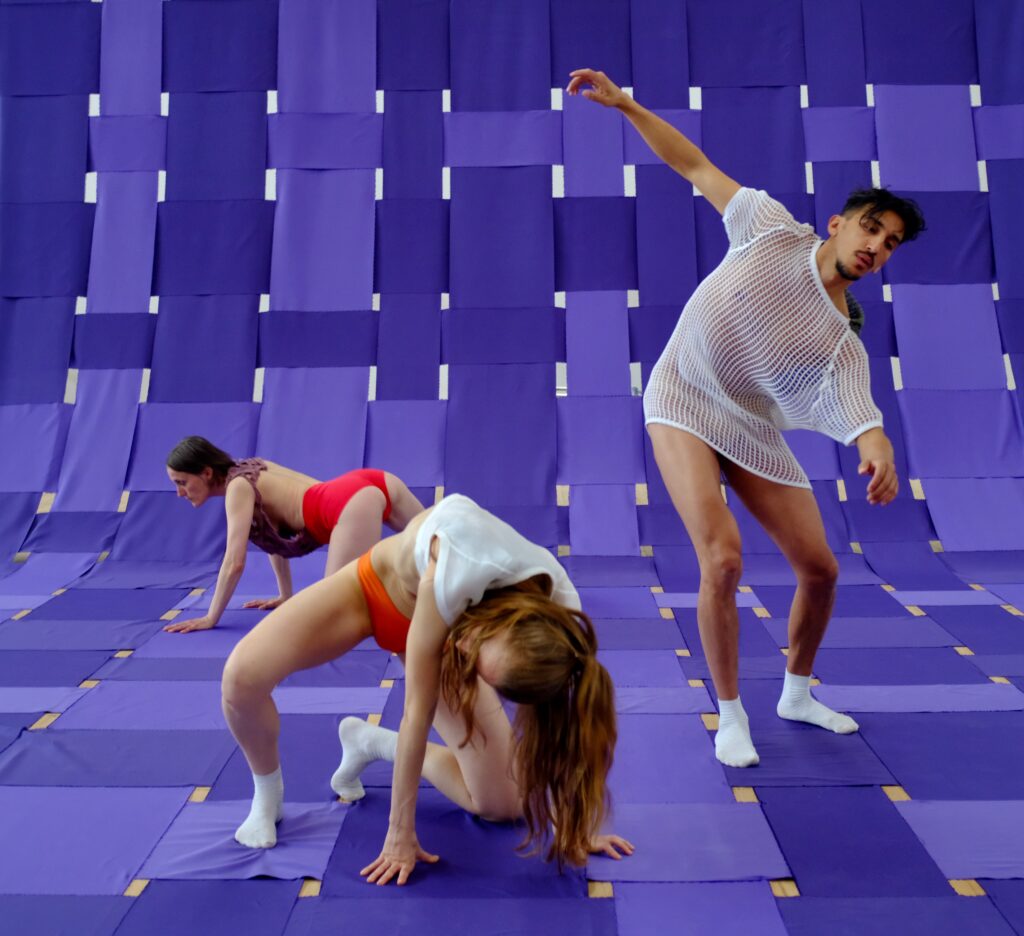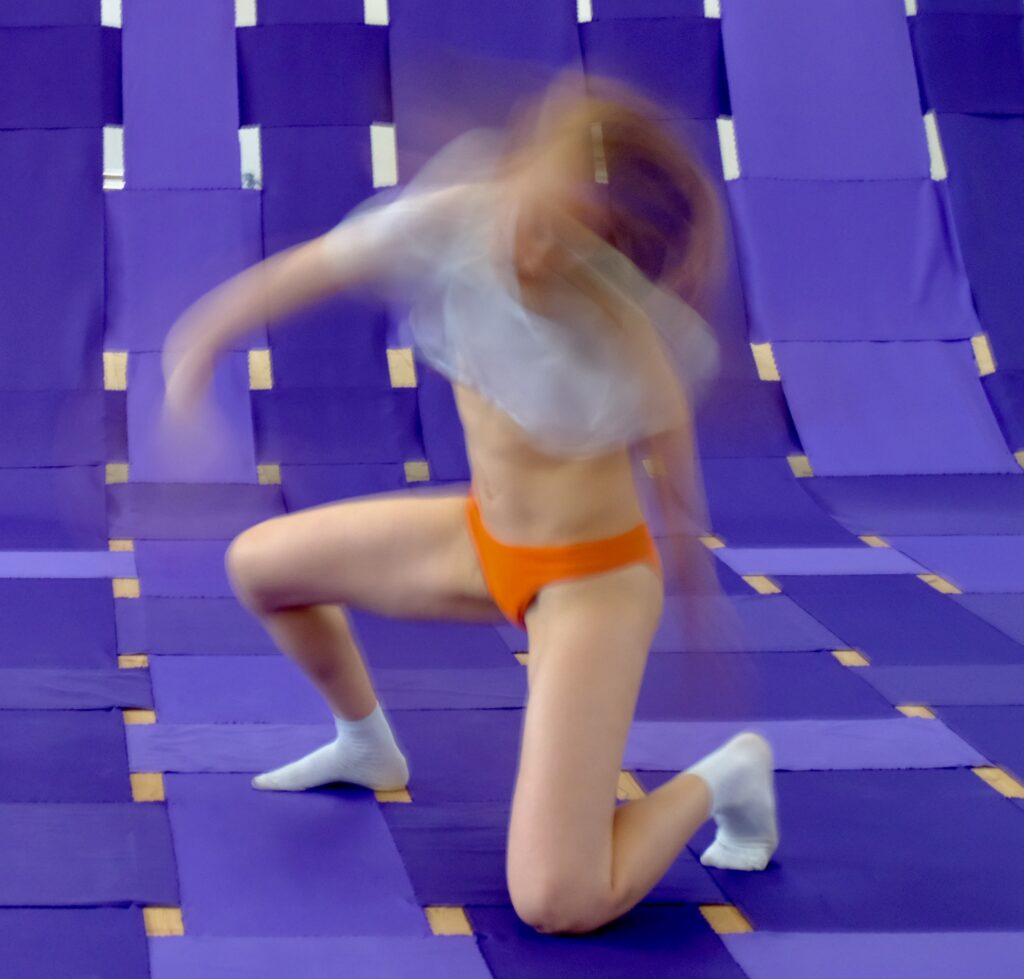 Conception, choreography and performance
Ida-Elisabeth Larsen, Marie-Louise Stentebjerg, Jonathan Bonnici
Textile installation
Lærke Valum
Textile assistents
Emilie Strøm, Christian Schytt Fisker, Maria Holmegaard Hansen, Mathilde Helbo
Seamstress
Laura Emilie Andersen Lausen
Voice consultant
Emma Bonnici
Dramaturgical support
Anders Paulin & Eleanor Bauer
Channeling
Henriette Bjørn
Body work
Christine Borch
Teaser/Photography
Jeffrey Scott Stratton & Morten Bencke
Poster and booklet
Sam Moore
Bookkeeping
John Gottenborg Bruun v/Cyrk
Location
Husets Teater, rød sal
Time
06-11.06, 2022
Genre
Choreography
Song of 8
Institute of Interconnected Realities
AMONG CPH STAGE'S SELECTIONS FOR THE INTERNATIONAL DAYS
In natural light and in the drawing down of the day the audience experiences a concert of body and voice from the 3 performers on stage. Shadows lengthen, bodies move in
perpetual motion, voices entwine in otherworldly songs, a parade of associations unfurl in the mind of the watcher.
Song of 8 is the last in a trilogy of works that play at the boundary of recognisable reality. Through presenting a clearly visible practice in which repetition always brings something
new, known reality is deformed and new landscapes become visible. Like the two previous performances in the trilogy, Song of 8 works with the performer as a
channeling body, the witness as participant, and practice over the preset dance. In Song of 8, we consider the visionary space made available through the unbounded
affectual energy of the erotic. A significant part of the research involved attempting to understand the notion of 'down', a concept that rides a blurred line between the metaphoric and concrete. Articulating what 'down' is involves, to some degree, a mapping of the immaterial world, one which will be idiosyncratic to the traveler who ventures there. In traveling 'down' one takes a circuitous round trip that may follow similar routes but will always arrive in a unique place. It is the diversity of these destinations that we explore in our
Song.
About IIR
The Institute of Interconnected Realities (IIR) is a newly launched platform influenced by the concept of Decentralized Choreography. The implication of this term is that the choreographic event unfolds in multiple sites simultaneously none of which are more important than the others. Decentralized Choreography is not only a concept that inspires choreographic thinking on stage, but under the IIR it offers new perspectives on dramaturgy, production, spectatorship, curation a.o. In the coming year the IIR aims to present a series of research initiatives and artistic works that look at the potential of choreographic thinking as expanded practice.
The IIR is developed under artistic direction of the Danish choreographers Ida-Elisabeth Larsen and Marie-Louise Stentebjerg (two-women-machine-show) as well as the British text writer and actor Jonathan Bonnici. Their previous works TRANS- (2015) and ALITY (2018) have toured in both Europe and Asia. The IIR supports their shared artistic research and the multiple strands of output it sets in motion.The IIR is supported by the Danish Arts Foundation, Husets Teater, Aaben Dans & Dansehallerne.
www.iir.dk
Ticket
Conception, choreography and performance
Ida-Elisabeth Larsen, Marie-Louise Stentebjerg, Jonathan Bonnici
Textile installation
Lærke Valum
Textile assistents
Emilie Strøm, Christian Schytt Fisker, Maria Holmegaard Hansen, Mathilde Helbo
Seamstress
Laura Emilie Andersen Lausen
Voice consultant
Emma Bonnici
Dramaturgical support
Anders Paulin & Eleanor Bauer
Channeling
Henriette Bjørn
Body work
Christine Borch
Teaser/Photography
Jeffrey Scott Stratton & Morten Bencke
Poster and booklet
Sam Moore
Bookkeeping
John Gottenborg Bruun v/Cyrk
Song of 8 is co-produced by Dansehallerne, MDT & Bora Bora through the Nordic Residency Exchange Program