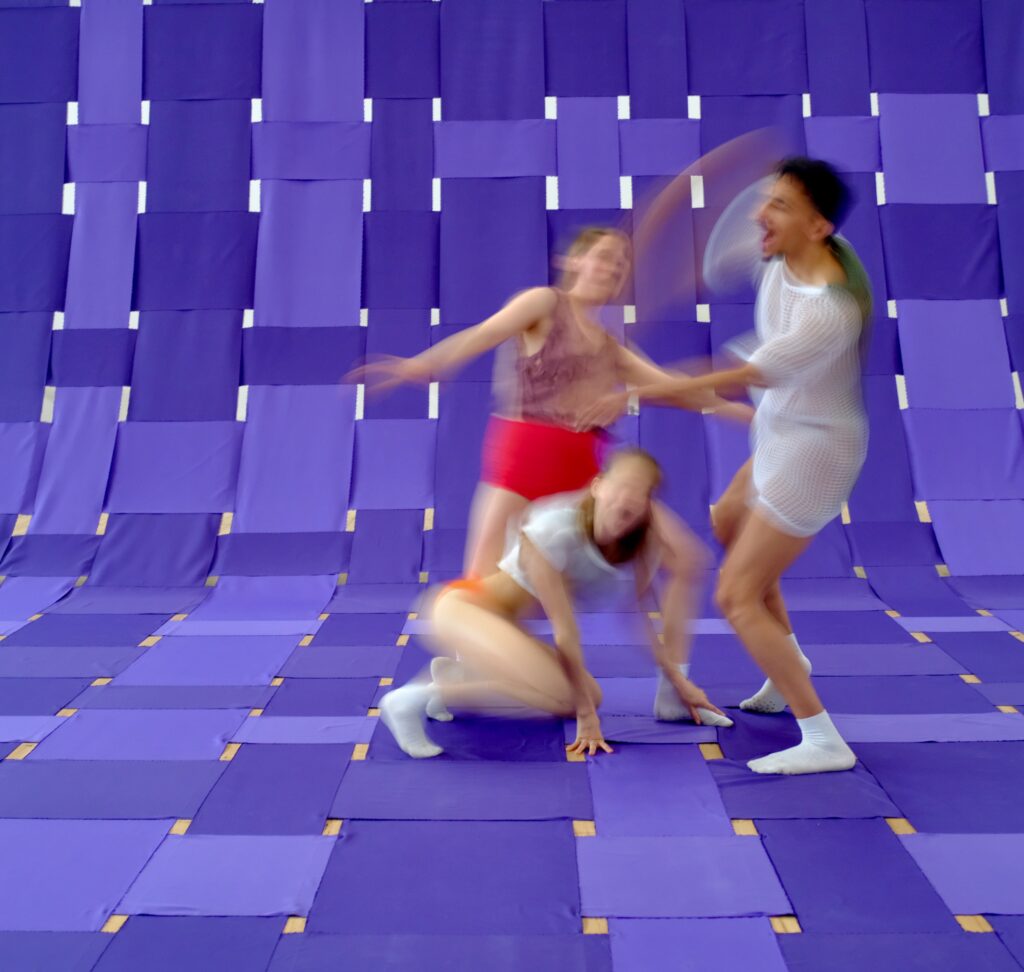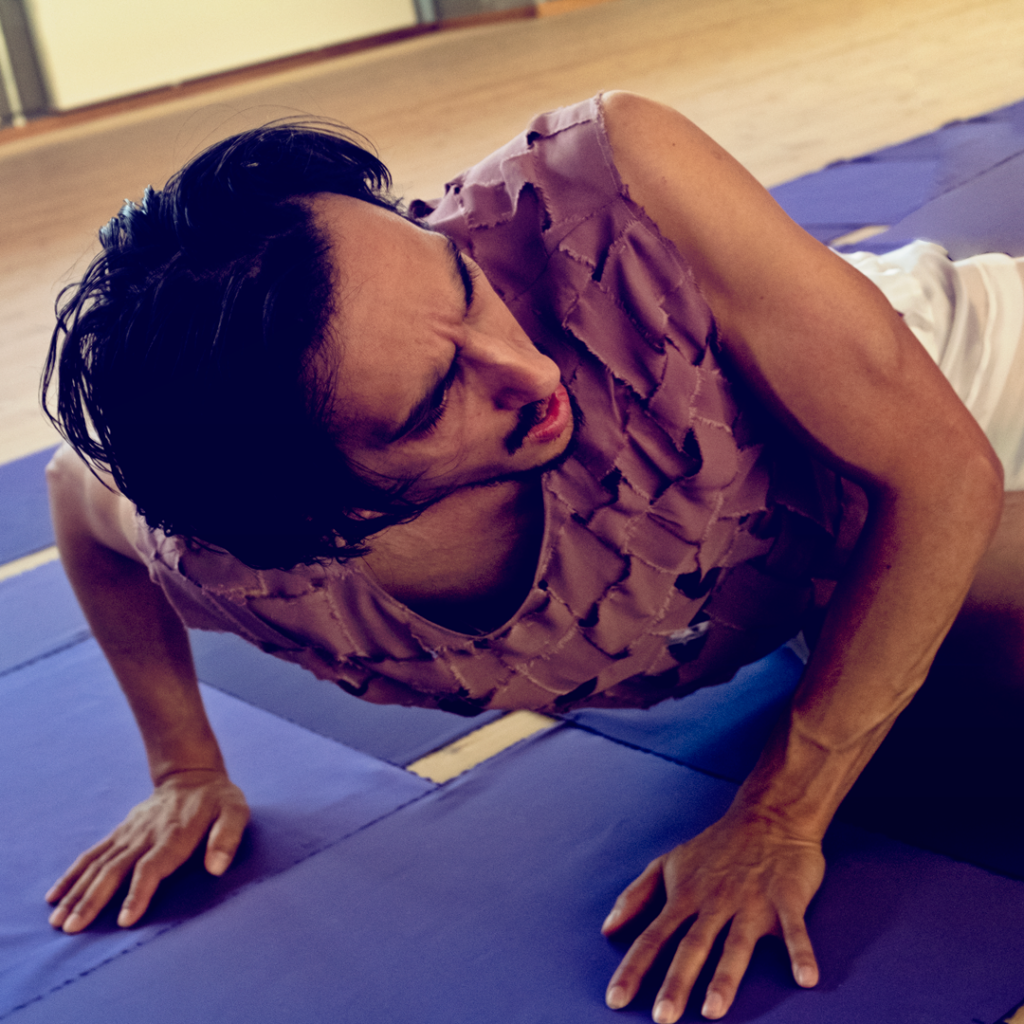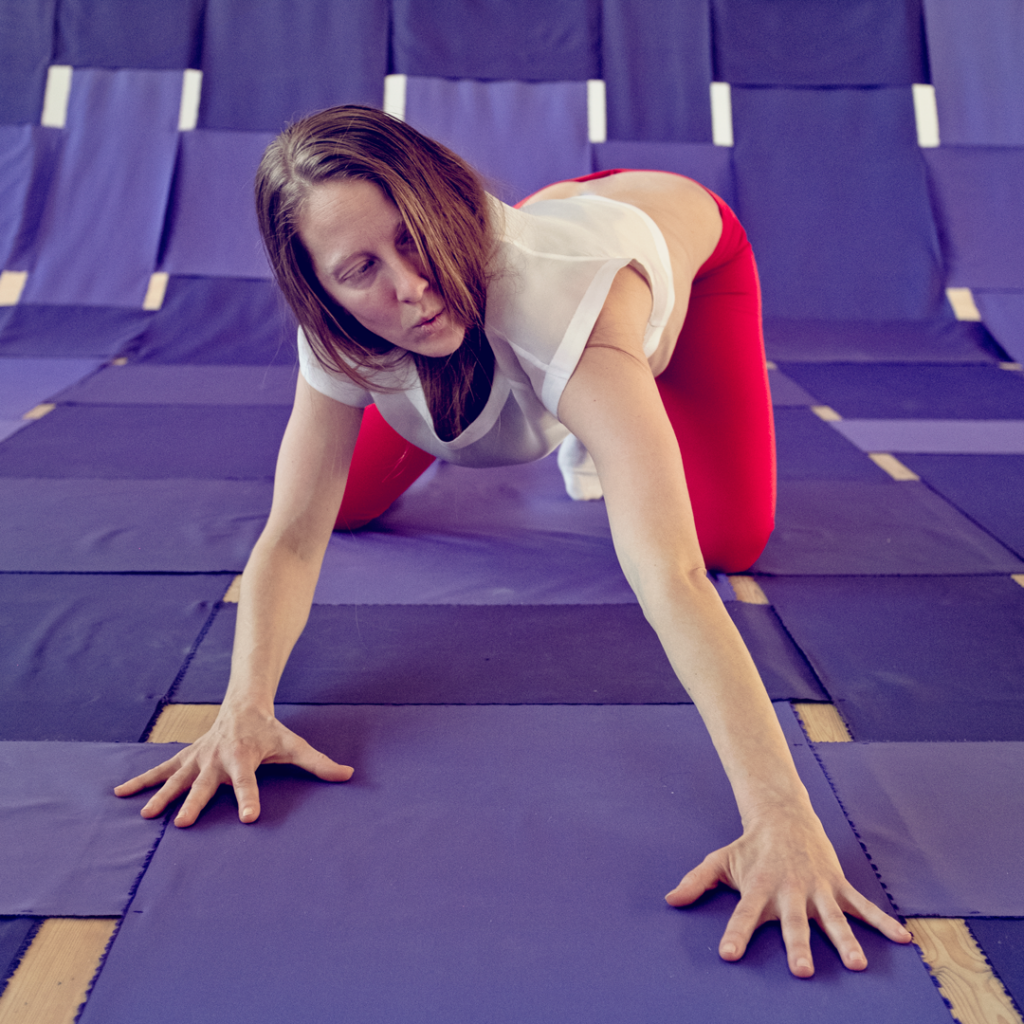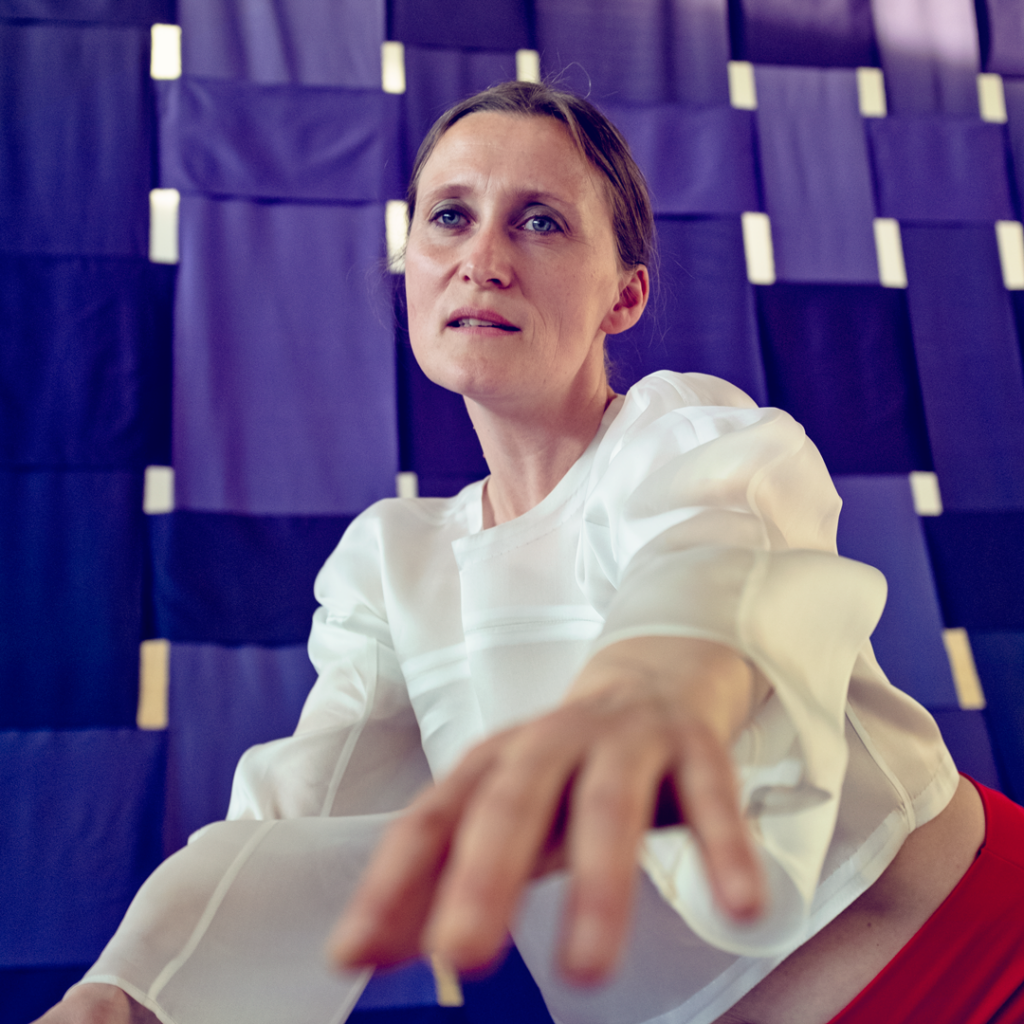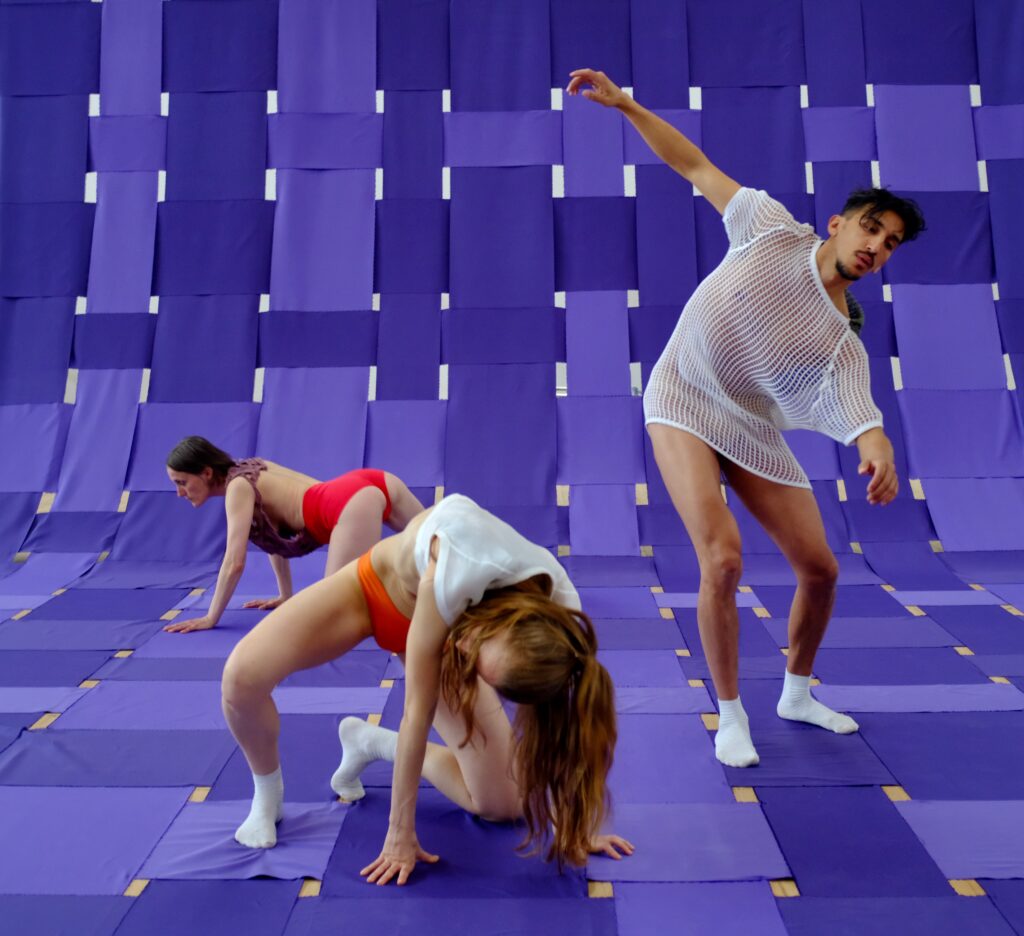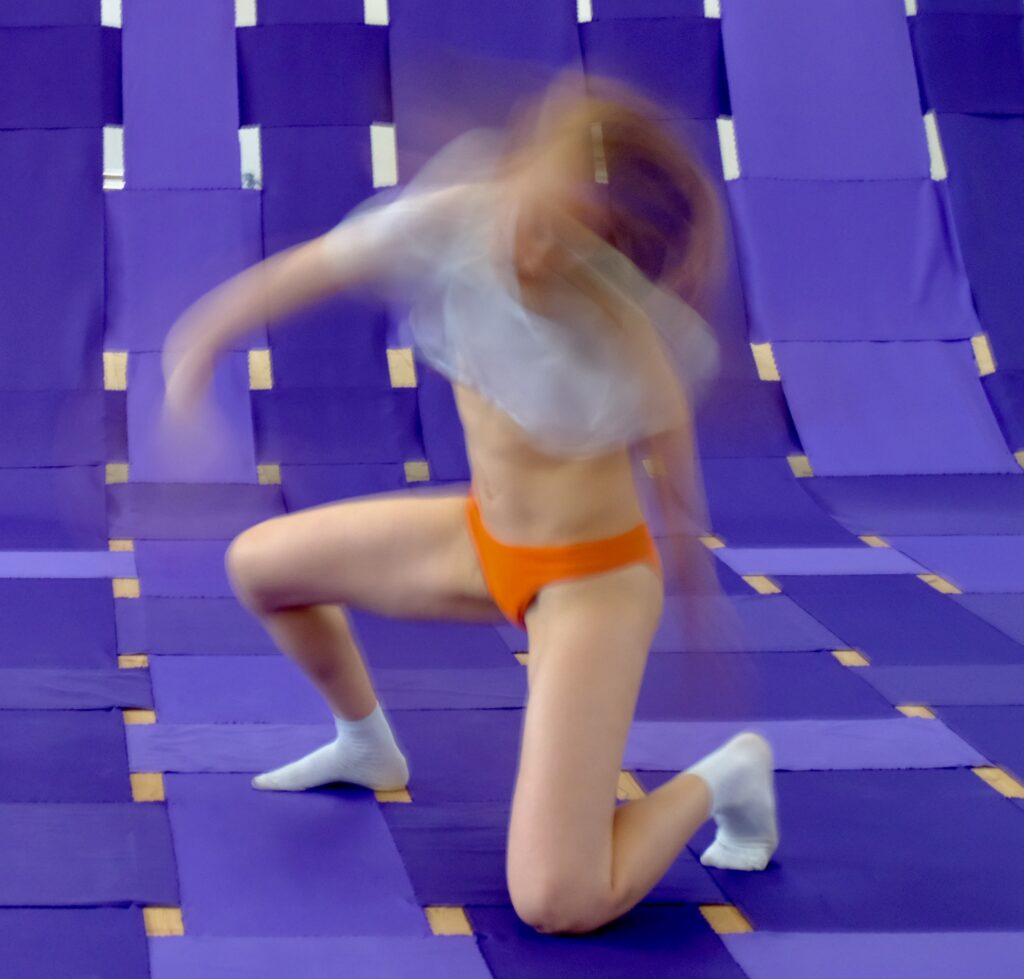 Conception, choreography and performance
Ida-Elisabeth Larsen, Marie-Louise Stentebjerg, Jonathan Bonnici
Textile installation
Lærke Valum
Textile assistents
Emilie Strøm, Christian Schytt Fisker, Maria Holmegaard Hansen, Mathilde Helbo
Seamstress
Laura Emilie Andersen Lausen
Voice consultant
Emma Bonnici
Dramaturgical support
Anders Paulin & Eleanor Bauer
Channeling
Henriette Bjørn
Body work
Christine Borch
Teaser/Photography
Jeffrey Scott Stratton & Morten Bencke
Poster and booklet
Sam Moore
Administration
Projektcentret
Location
Husets Teater, rød sal
Time
06-11.06, 2022
Genre
Choreography
Song of 8
Institute of Interconnected Realities
The song on offer is a distinct wisdom, fully formed and uncreated. It arrives with a gift of new vision and the possibility of release.
Through accessing the principle of pleasure the performer attempts to surrender to the unknown articulation that wishes to express itself.
Song of 8 is the outcome of research that considered the gap between the visionary and the erotic and how it might be breached. Over the development of our practice we attempted to understand how to connect the plain of the horizontal with the plane of the vertical, what the potential of the figure of 8 was in connecting different energetic poles, and how to access a body without shame, movement without shame, pleasure without shame, pain without shame and release without shame.
In Song of 8 we offer a tool which the audience is invited to use in the way they feel able.
About IIR
The Institute of Interconnected Realities (IIR) is a newly launched platform influenced by the concept of Decentralized Choreography. The implication of this term is that the choreographic event unfolds in multiple sites simultaneously none of which are more important than the others. Decentralized Choreography is not only a concept that inspires choreographic thinking on stage, but under the IIR it offers new perspectives on dramaturgy, production, spectatorship, curation a.o. In the coming year the IIR aims to present a series of research initiatives and artistic works that look at the potential of choreographic thinking as expanded practice.
The IIR is developed under artistic direction of the Danish choreographers Ida-Elisabeth Larsen and Marie-Louise Stentebjerg (two-women-machine-show) as well as the British text writer and actor Jonathan Bonnici. Their previous works TRANS- (2015) and ALITY (2018) have toured in both Europe and Asia. The IIR supports their shared artistic research and the multiple strands of output it sets in motion.The IIR is supported by the Danish Arts Foundation, Husets Teater, Aaben Dans & Dansehallerne
www.iir.dk
Conception, choreography and performance
Ida-Elisabeth Larsen, Marie-Louise Stentebjerg, Jonathan Bonnici
Textile installation
Lærke Valum
Textile assistents
Emilie Strøm, Christian Schytt Fisker, Maria Holmegaard Hansen, Mathilde Helbo
Seamstress
Laura Emilie Andersen Lausen
Voice consultant
Emma Bonnici
Dramaturgical support
Anders Paulin & Eleanor Bauer
Channeling
Henriette Bjørn
Body work
Christine Borch
Teaser/Photography
Jeffrey Scott Stratton & Morten Bencke
Poster and booklet
Sam Moore
Administration
Projektcentret
Song of 8 is co-produced by Dansehallerne, MDT & Bora Bora through the Nordic Residency Exchange Program