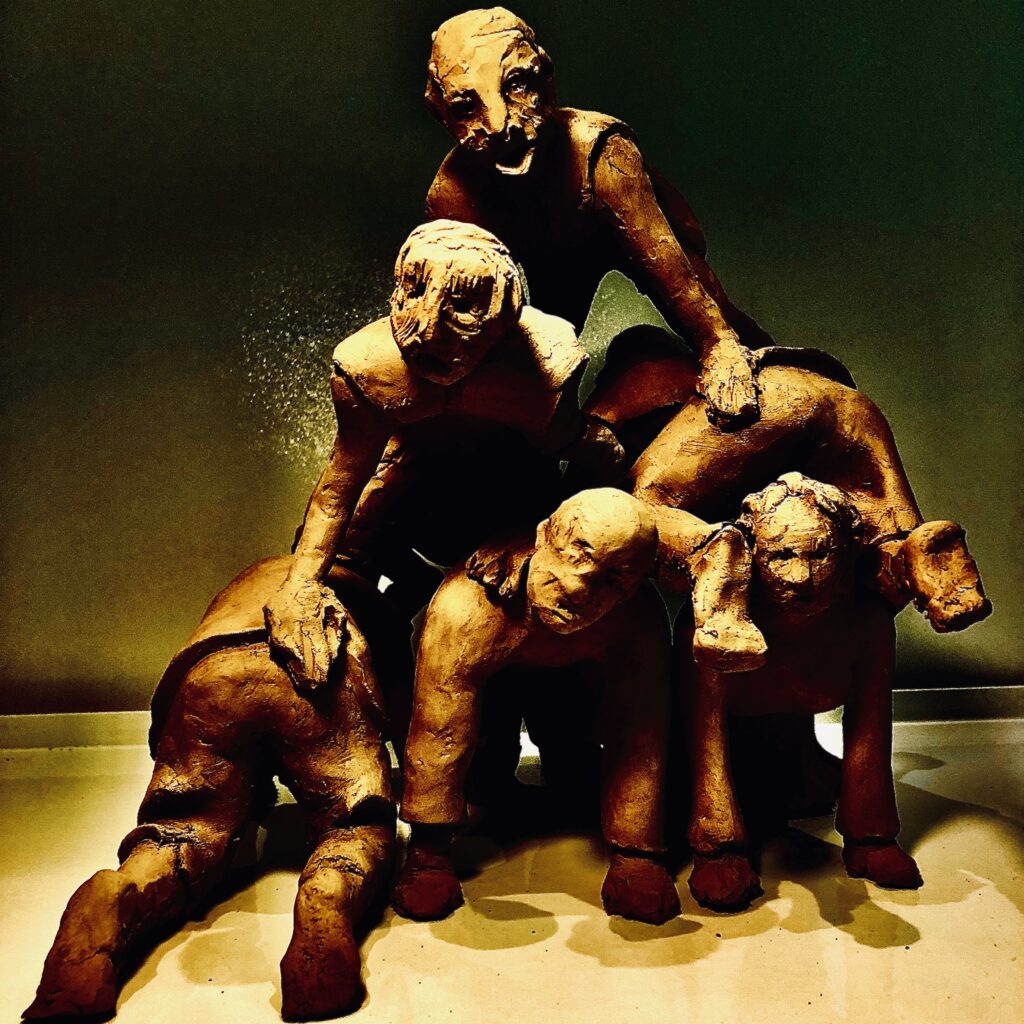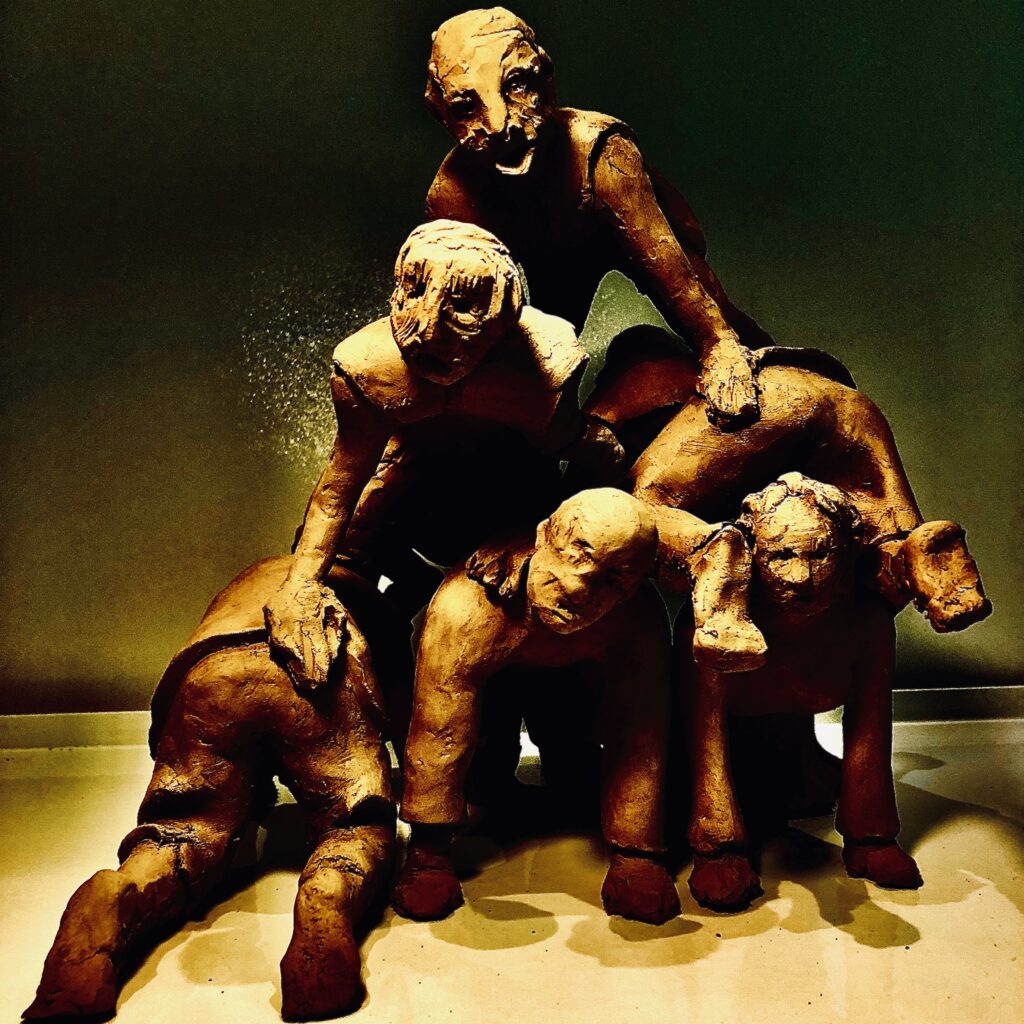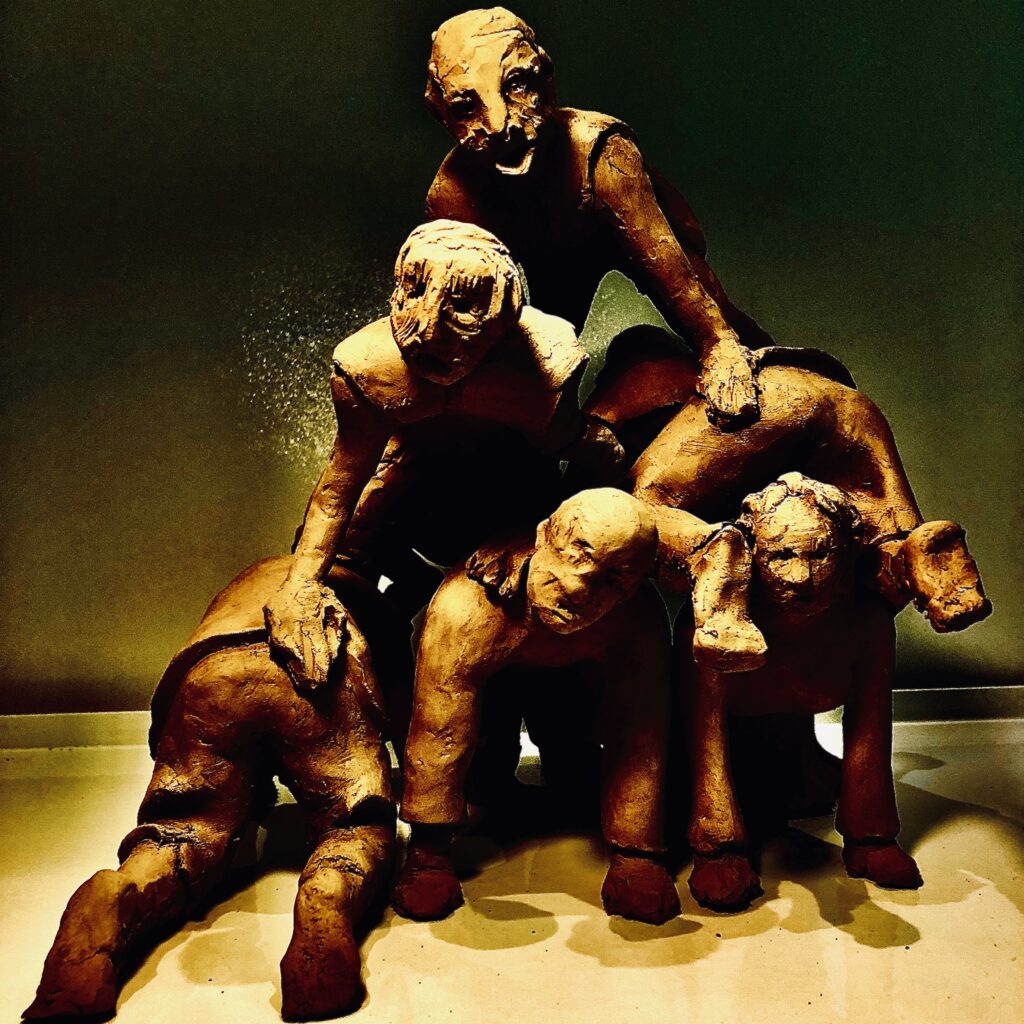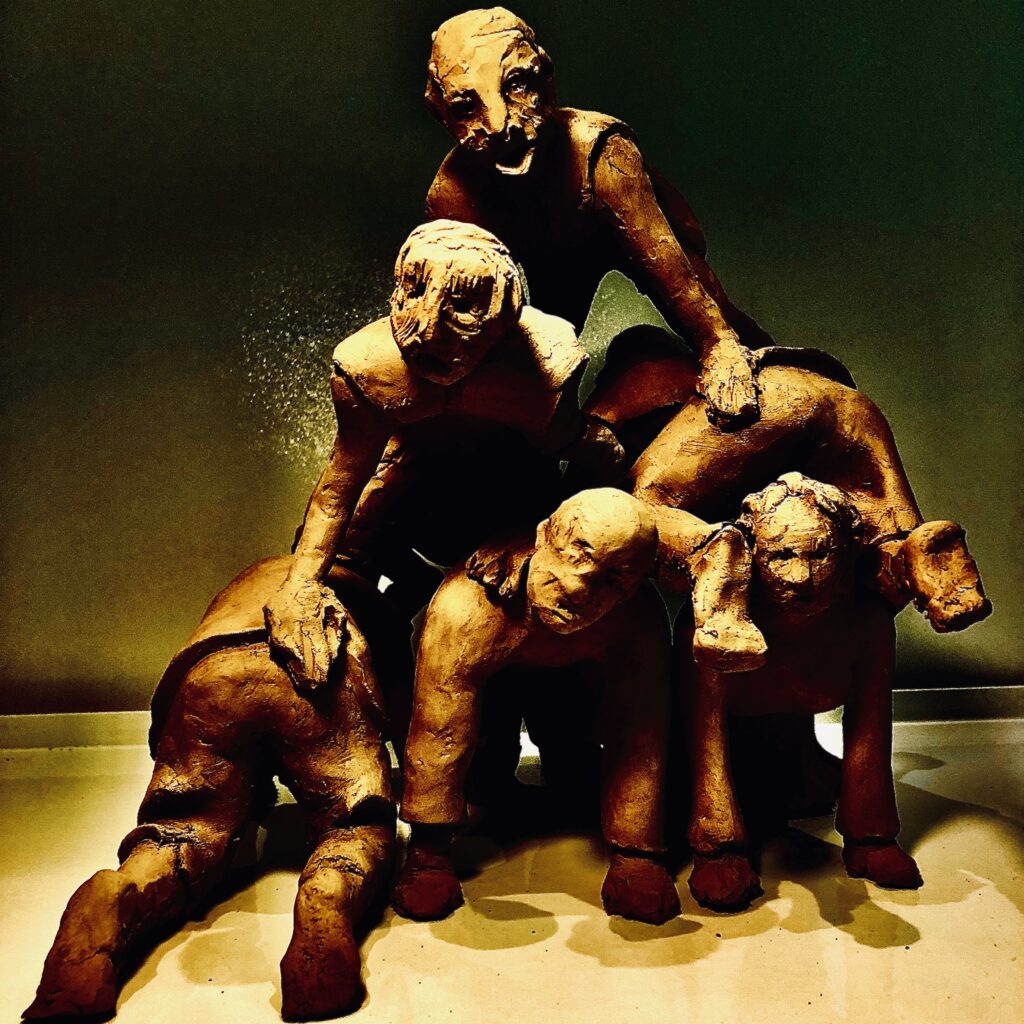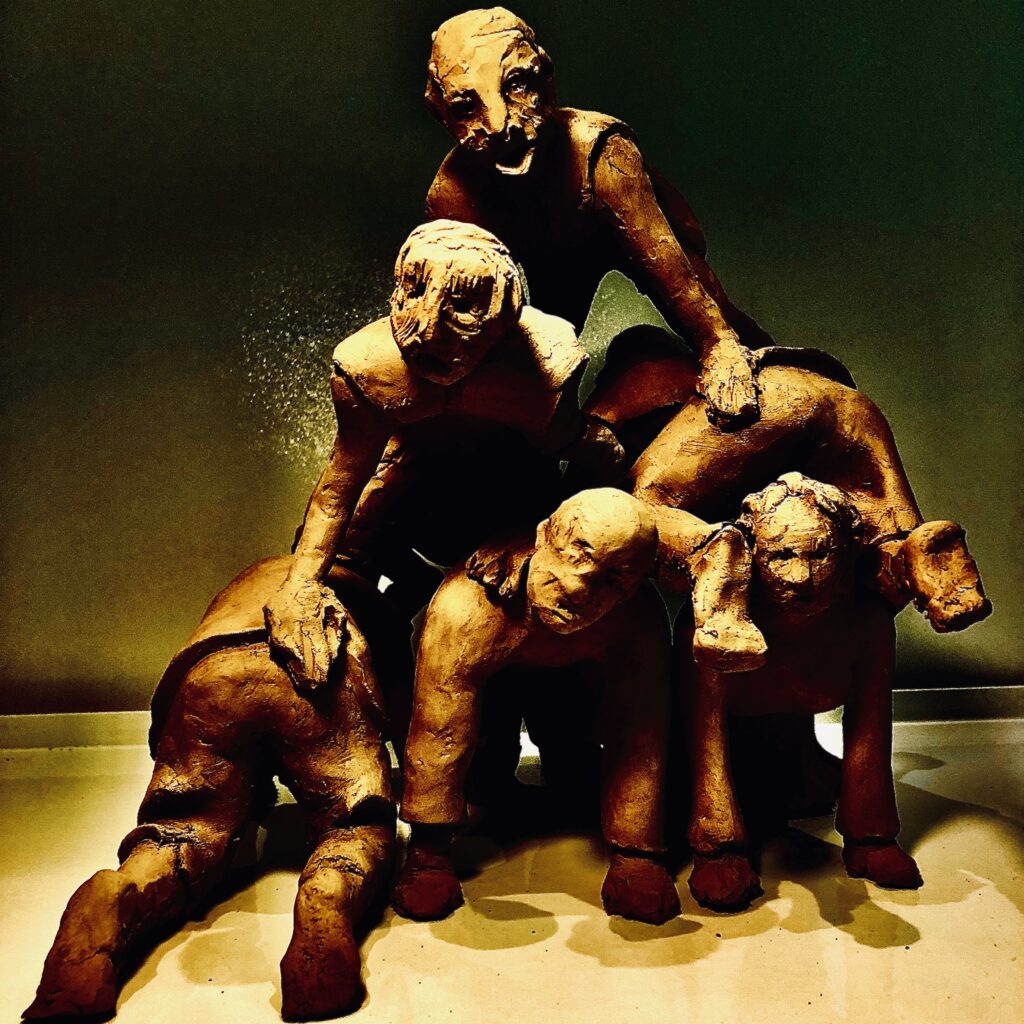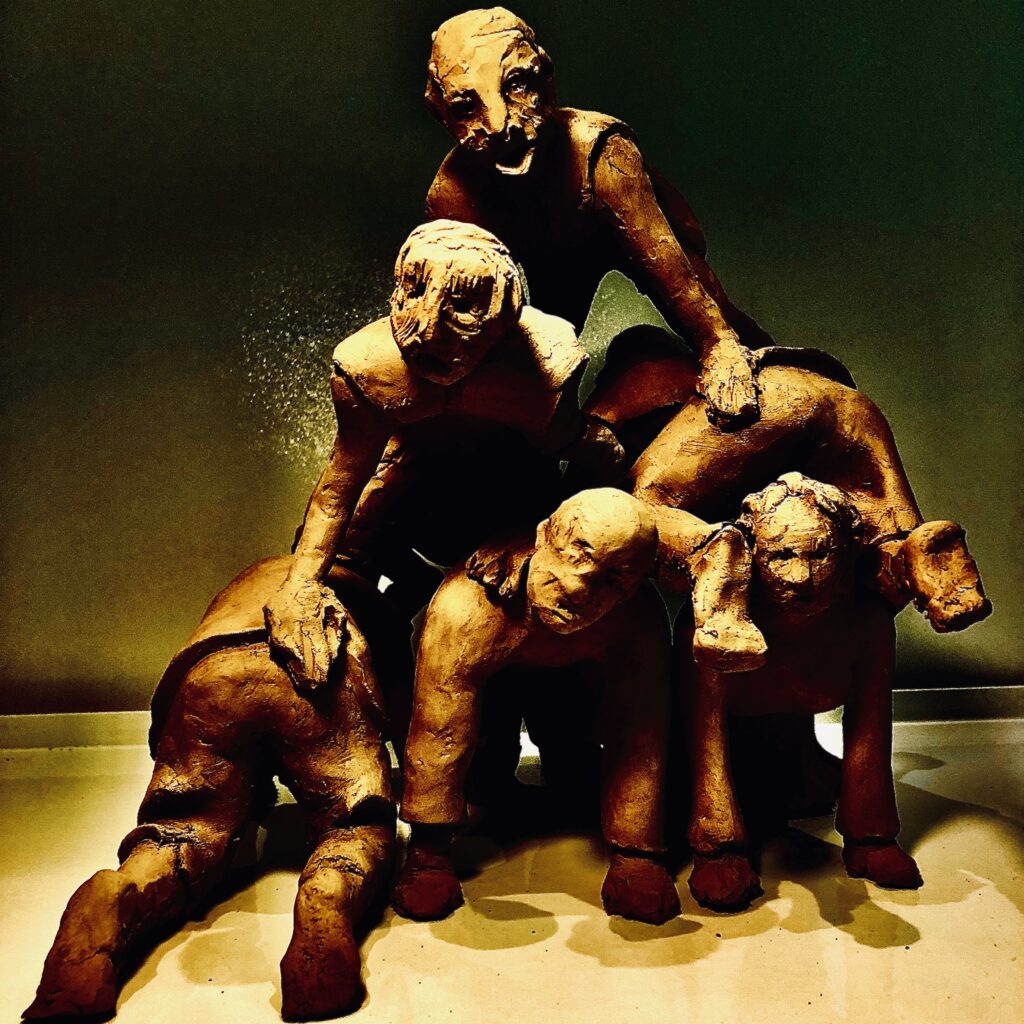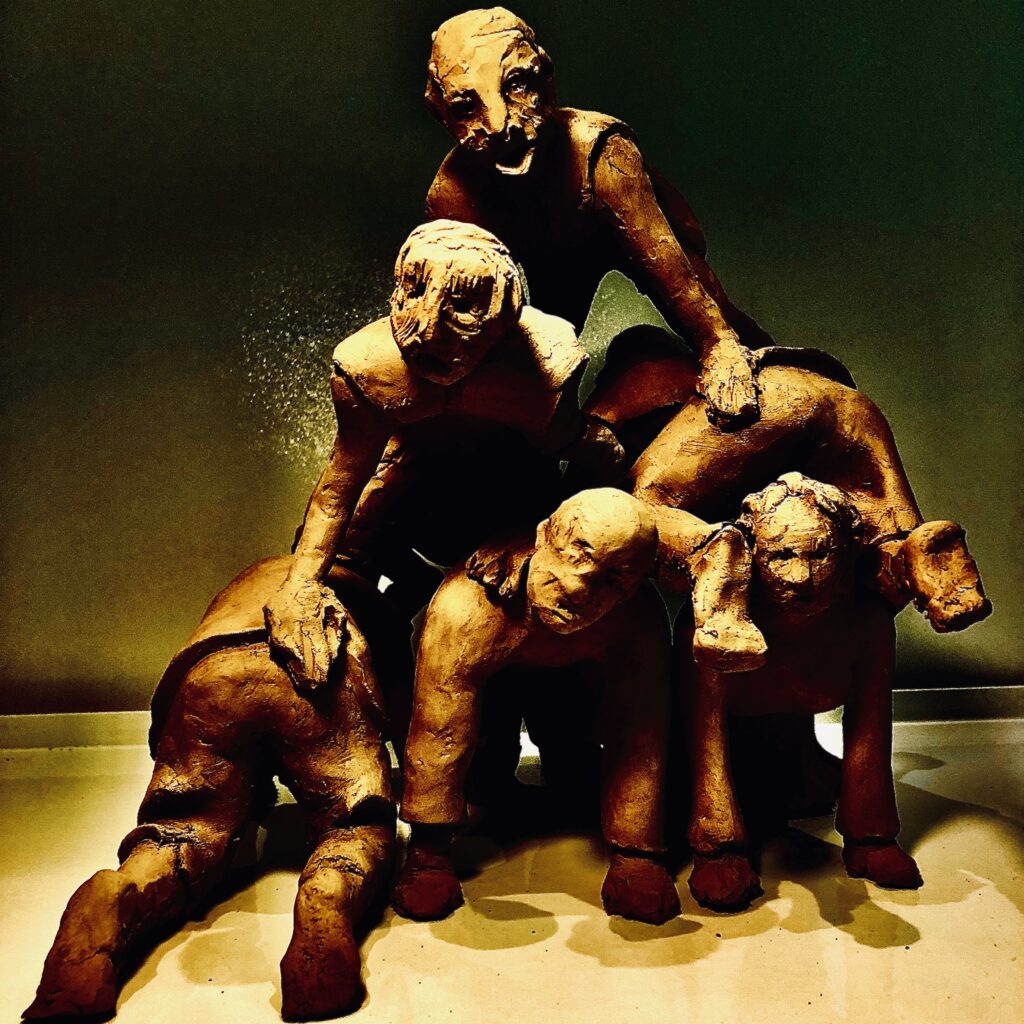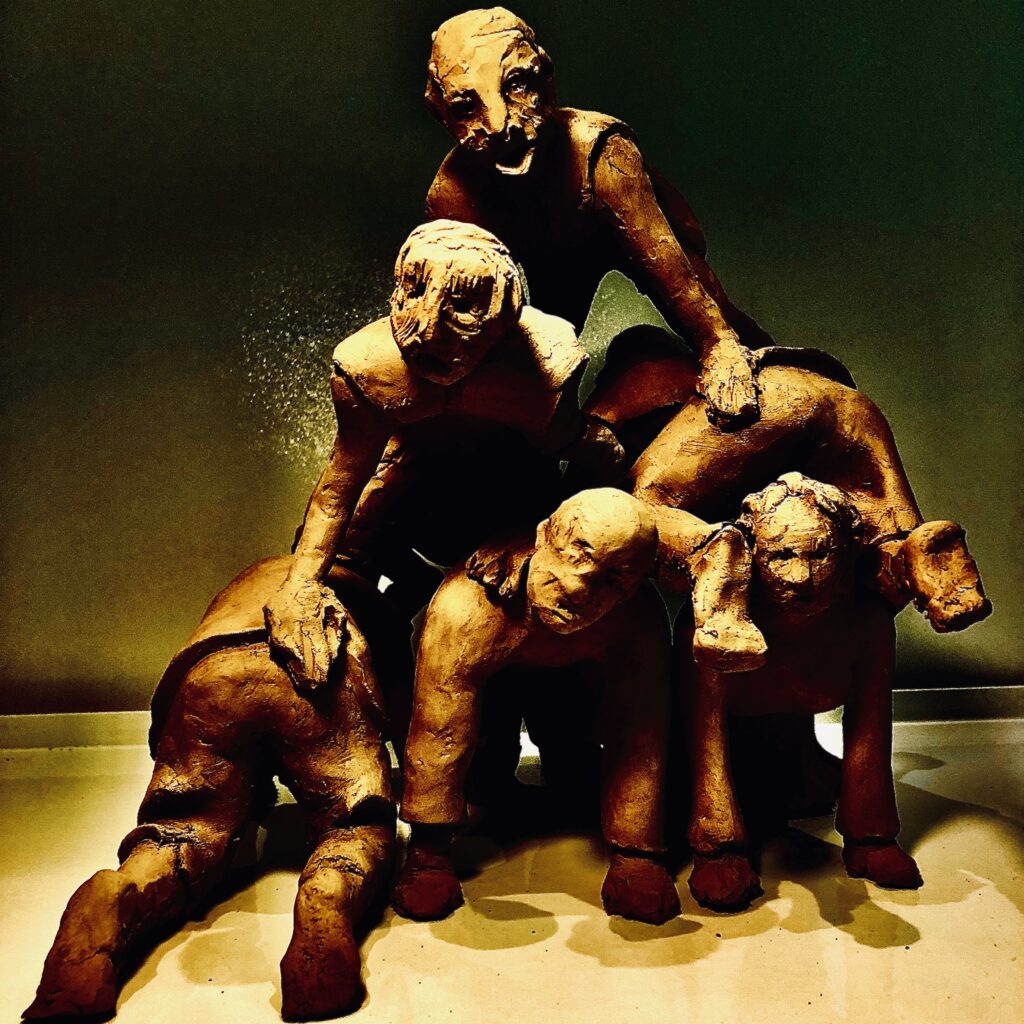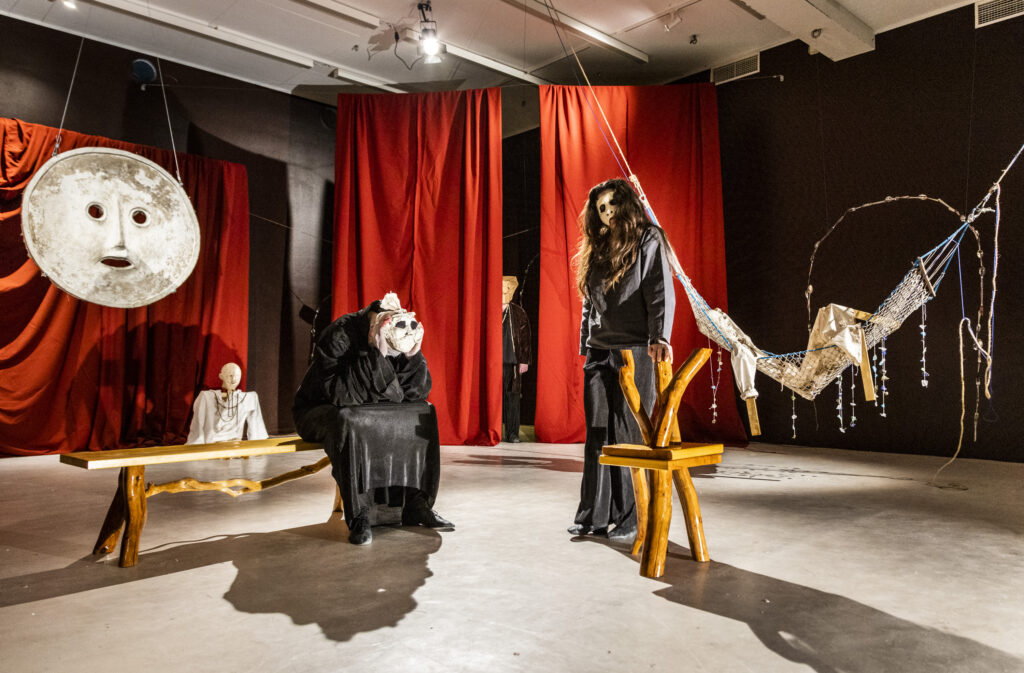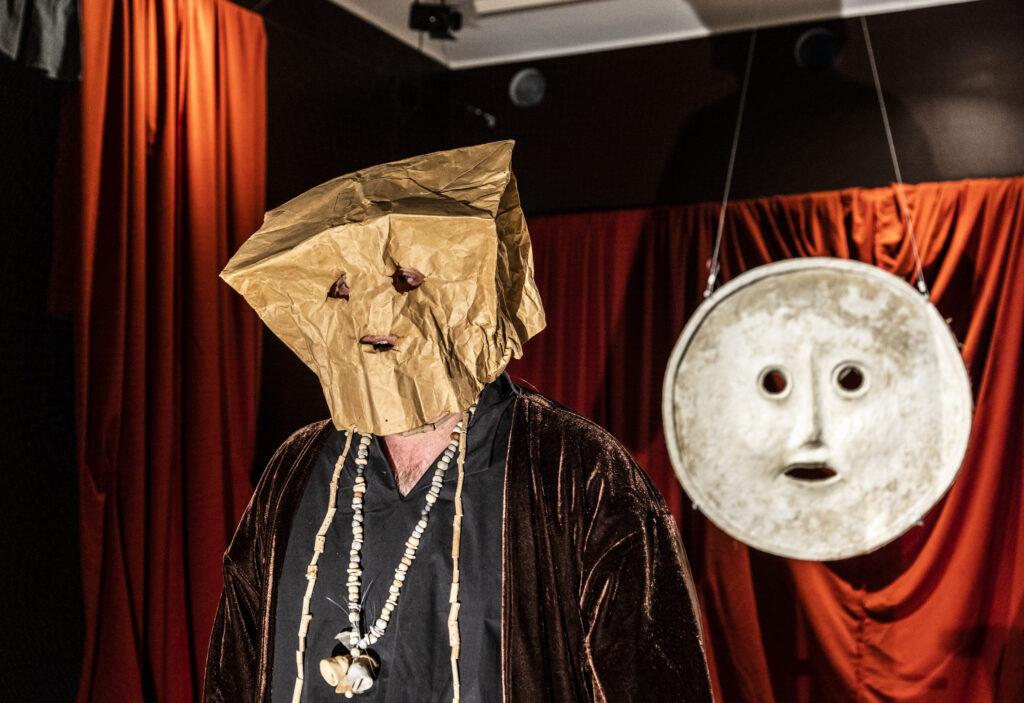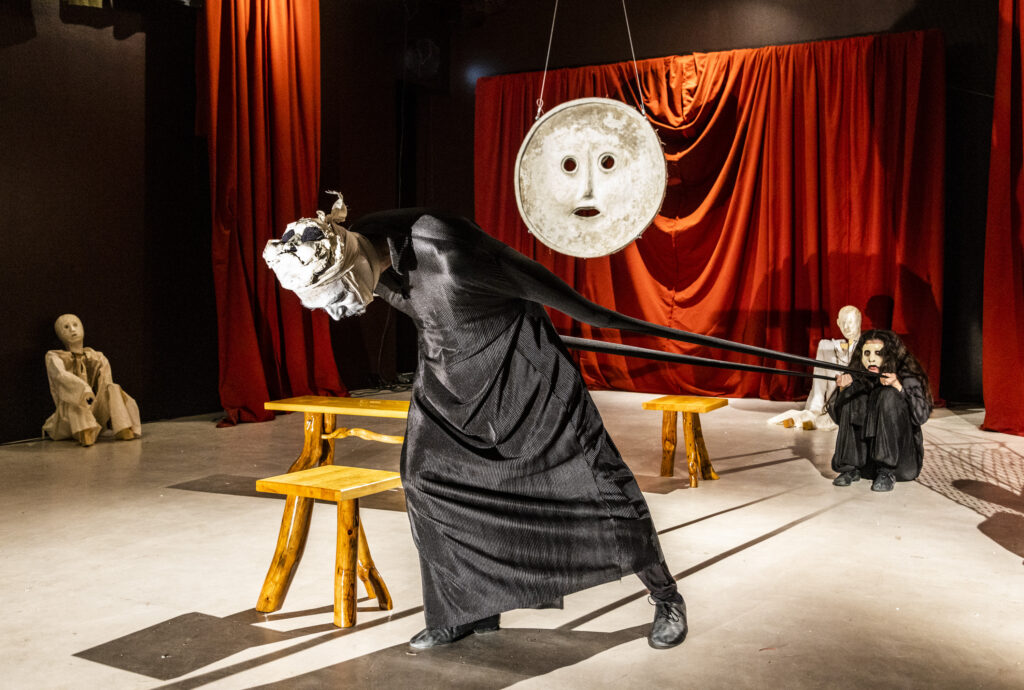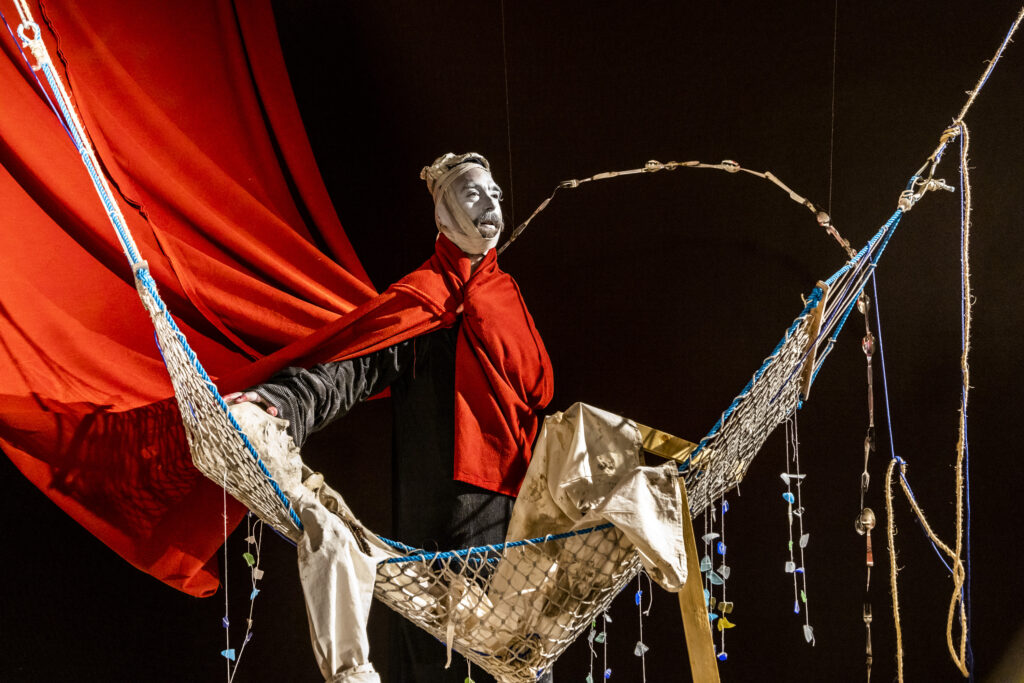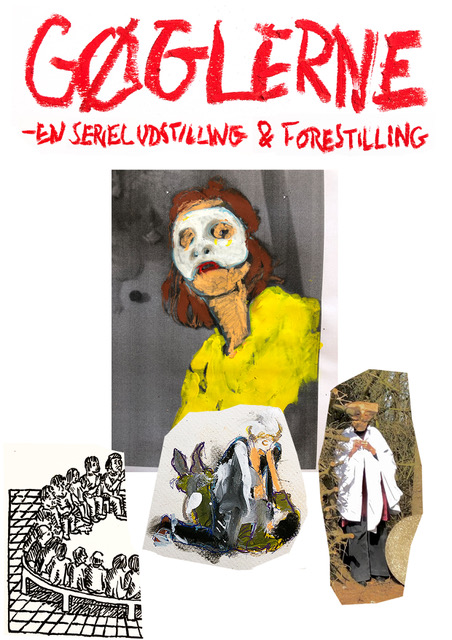 Performers
Asbjørn Krogh Nissen, Christine Gjerulff & Torben Kirkegaard
Performers episode 4
Asbjørn Krogh Nissen, Christine Gjerulff, Torben Kirkegaard, Michiel Tange van Leeuwen & Signe Gravlund Thomsen
Sculpture, masks and installations
Mathias Dyhr
Woodworks
Lucas Wichmann Melkane
Costumes
Freja Veile & Michiel Tange van Leeuwen
Directors assistant
Anne Kristine Elmholt
Location
Den Frie, Minus 2
Time
11/2-22/5 2022
Genre
Performance, Installation
Gøglerne
by
Kunstteater
Kunstteater is a multidisciplinary project founded in 2018 by visual artist and director Mathias Dyhr (part of the artist duo Mathias & Mathias), who creates and stages productions with various artistic actors in a crossroads between visual art and theater.
Gøglerne presents an exhibition and an episodic series of performances in Den Frie Udstillingsbygning's underground exhibition space Minus 2, together with a single performance on the streets in a public space.
Gøglerne is a story of a group of jesters, whose common goal is to stop time. Staged as a group of actors and sculptures, we meet the jesters for the first time, as the attend a crisis meeting in their shell shelter (Minus 2), an odd restaurant that does not serve food. Their much-loved leader, Gemini, has unexpectedly passed away, leaving them in deep grief and confronting them with an unwanted change of throne. From here, the crisis picks up speed and through four performative episodes we follow the jesters internal struggle for survival, while the challenges from outside only grows. Who will take the place of Gemini as the group's new leader and will the jesters succeed in stopping the time before it is too late?
The exhibition deals with questions about the role of art in an accelerating society, the study of European traditions in art and theatre's history from antiquity to the Middle Ages and up to the present day. Kunstteater plays with the layers between fiction and the real world in this new experimental work presented at Minus 2, Den Frie.
Each performative episode lasts approx. 40 minutes and will be performed on selected dates. Every day for two weeks up to each episode, Kunstteater holds rehearsals open to the public.
Episode 1: Friday, February 25 at 18:00 and at 20:00 (Minus 2, opening day)
Episode 2: Friday, March 18 at 18:00 and at 20:00 (Minus 2)
Episode 3: Friday, April 8 at 18:00 and at 20:00 (Minus 2)
Episode 4: Friday 29 April at 17:00 (Storkespringvandet, Amagertorv)
Kunstteater [Art Theater] is a collaborative community for aesthetic productions at the intersection between visual art and theater. With Gøglerne, Kunstteater presents a serial exhibition and performance that is their most ambitious project to date. In the exhibition Gøglerne, we are drawn into the tale of a group of circus performers in the form of temporary narrative performances, their costumes, homes and tools, all of which take on the character of sculpture and installation. Over the course of 10 weeks, the performers will take on their roles in a dramatic narrative that unfolds in an ever-changing exhibition space. As the series and plot progress, we follow the performers' balancing act between art and crime, dream and disillusionment.
The exhibition and performances are housed in Den Frie Centre of Contemporary Art's underground exhibition space, Minus 2, and on the street. There will be open rehearsals along the way, leading up to each episode, and various performances in the public space. All the while, the installation can be experienced independently, even when there are no performances underway. The serial exhibition and performances will also be filmed. This footage will eventually become documentation and function independently as a film.
Kunstteater was part of the three-day musical drama and sculpture theater Idéerne during the Socle Du Monde Biennale in 2021 and in 2020 with the exhibition and the episodic series Alle i Husene at Holstebro art museum in collaboration with author Maria Hesselager and visual artist Mathias Toubro (part of the artist duo Mathias & Mathias). Kunstteater made its public debut in 2019 with the showcase Showstopper at the Nordic Theater Laboratory – Odin Teatret.
Performers
Asbjørn Krogh Nissen, Christine Gjerulff & Torben Kirkegaard
Performers episode 4
Asbjørn Krogh Nissen, Christine Gjerulff, Torben Kirkegaard, Michiel Tange van Leeuwen & Signe Gravlund Thomsen
Sculpture, masks and installations
Mathias Dyhr
Woodworks
Lucas Wichmann Melkane
Costumes
Freja Veile & Michiel Tange van Leeuwen
Directors assistant
Anne Kristine Elmholt
Supported by Statens Værksteder, Knauf and