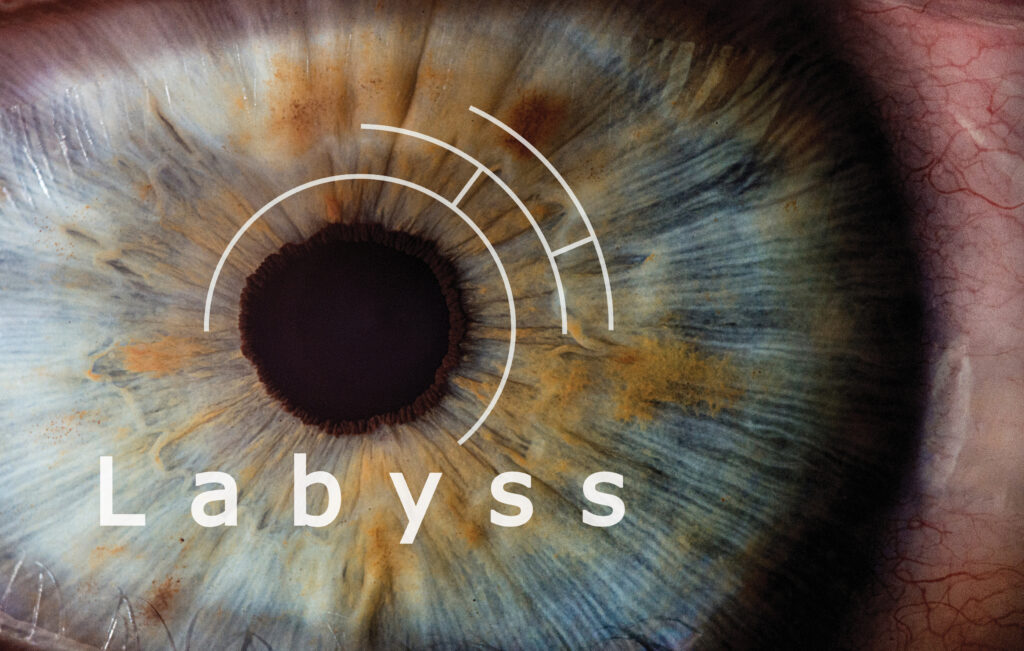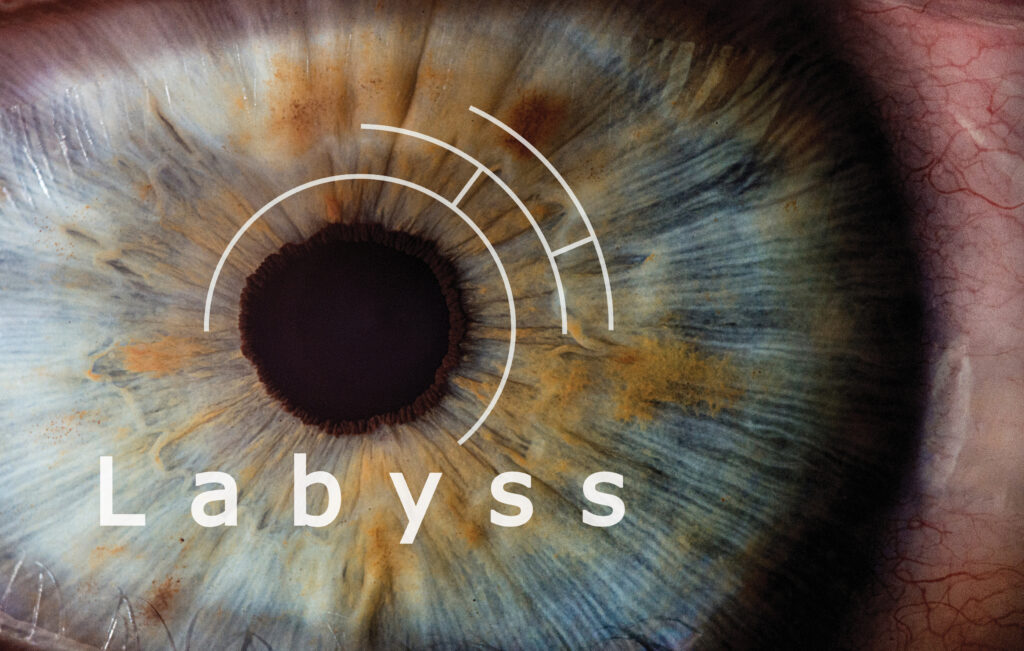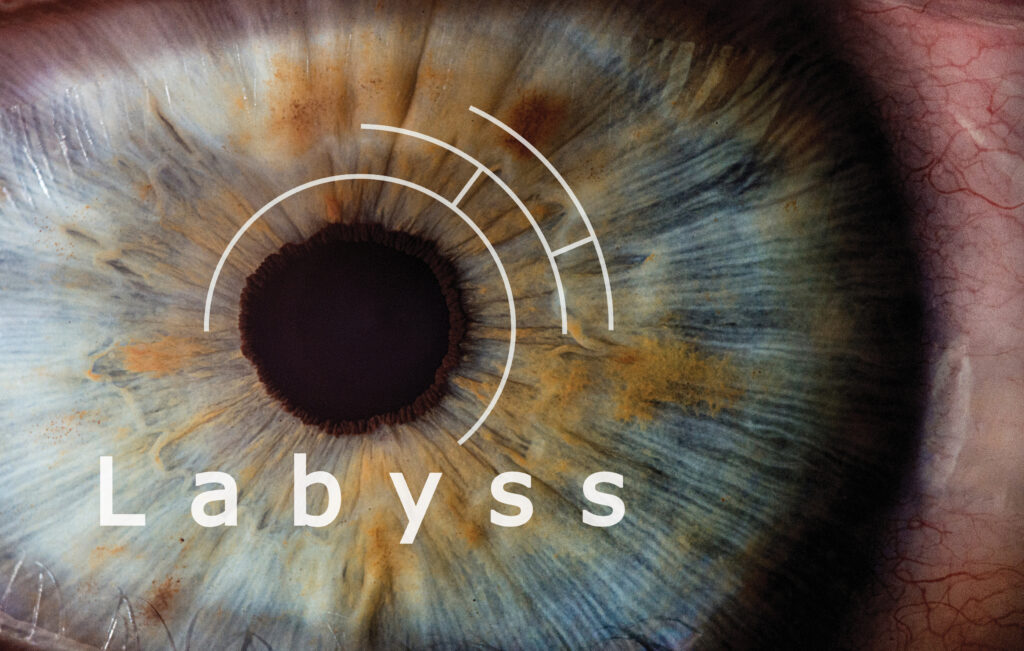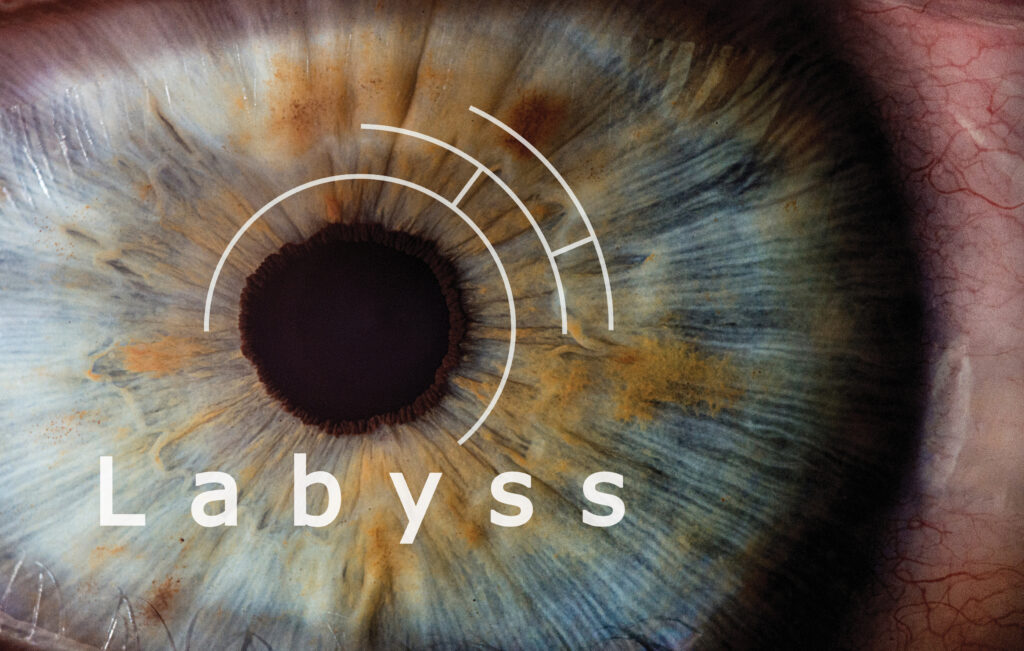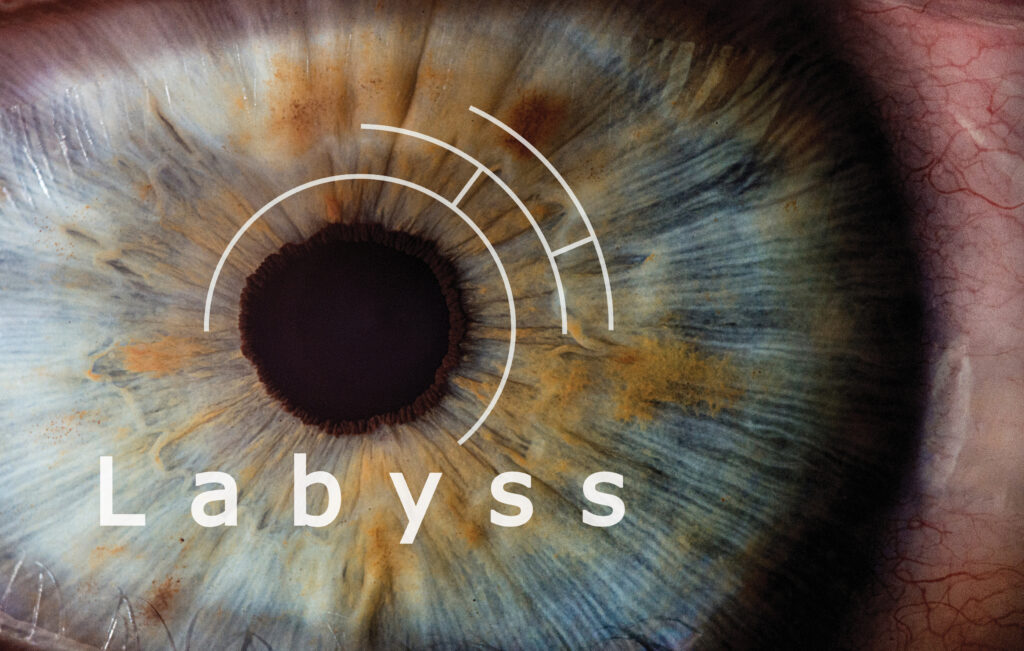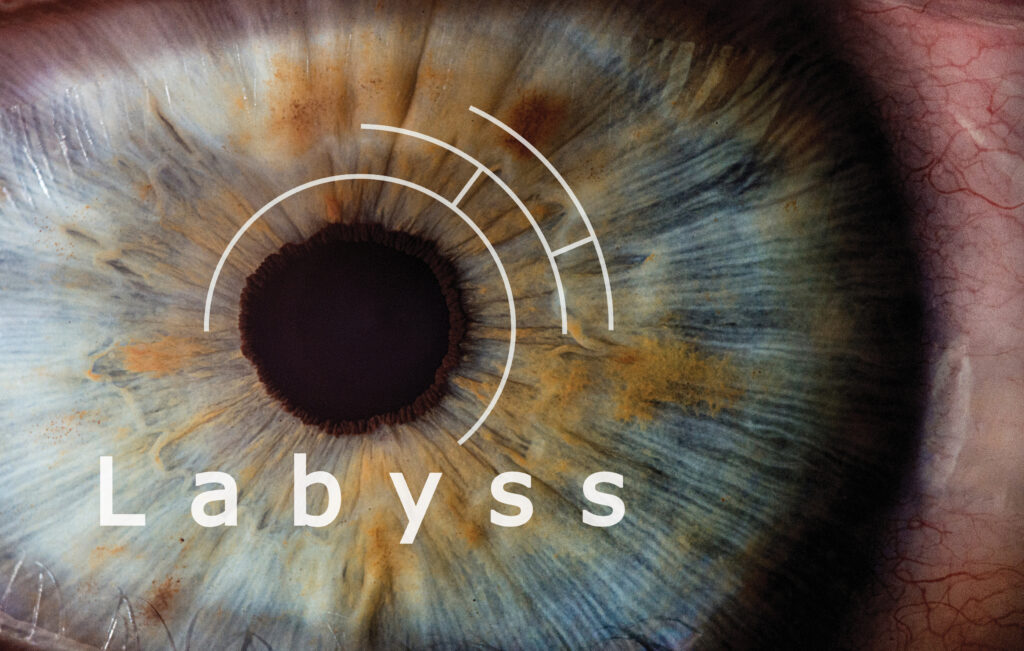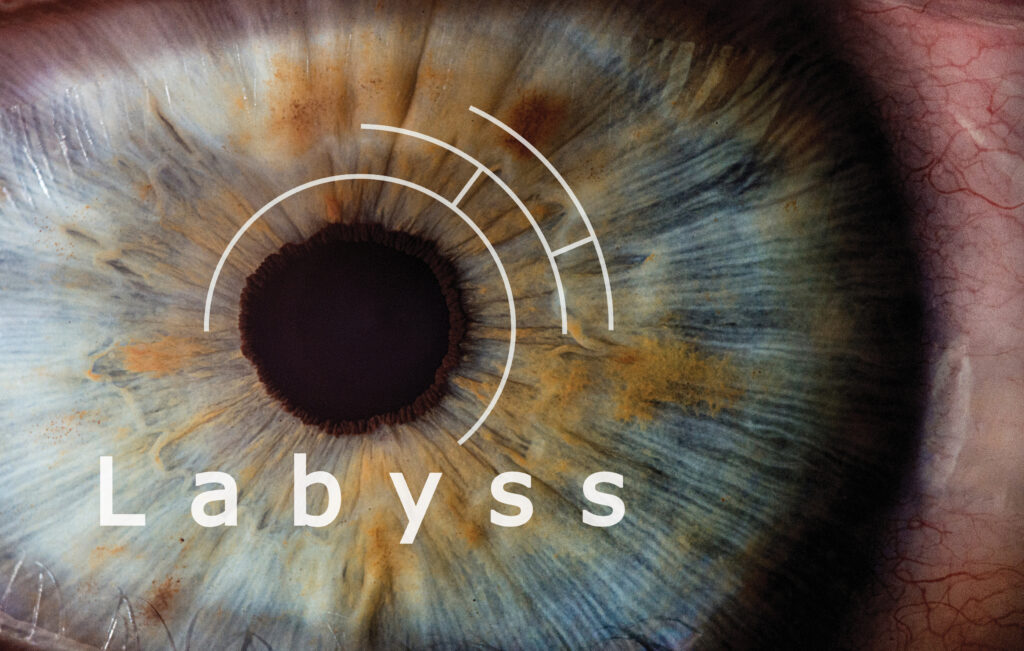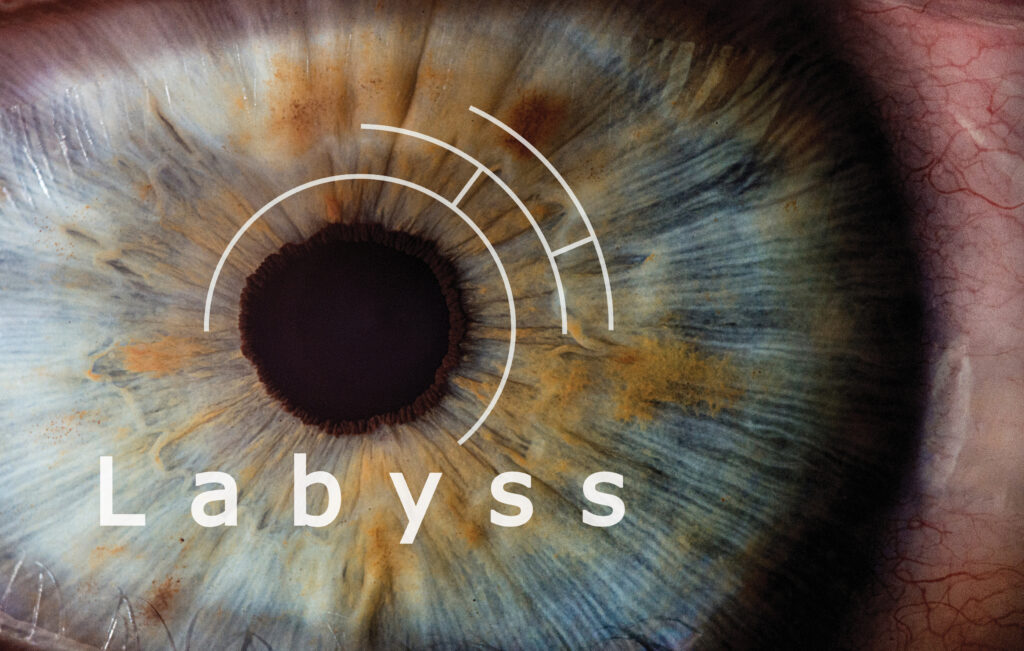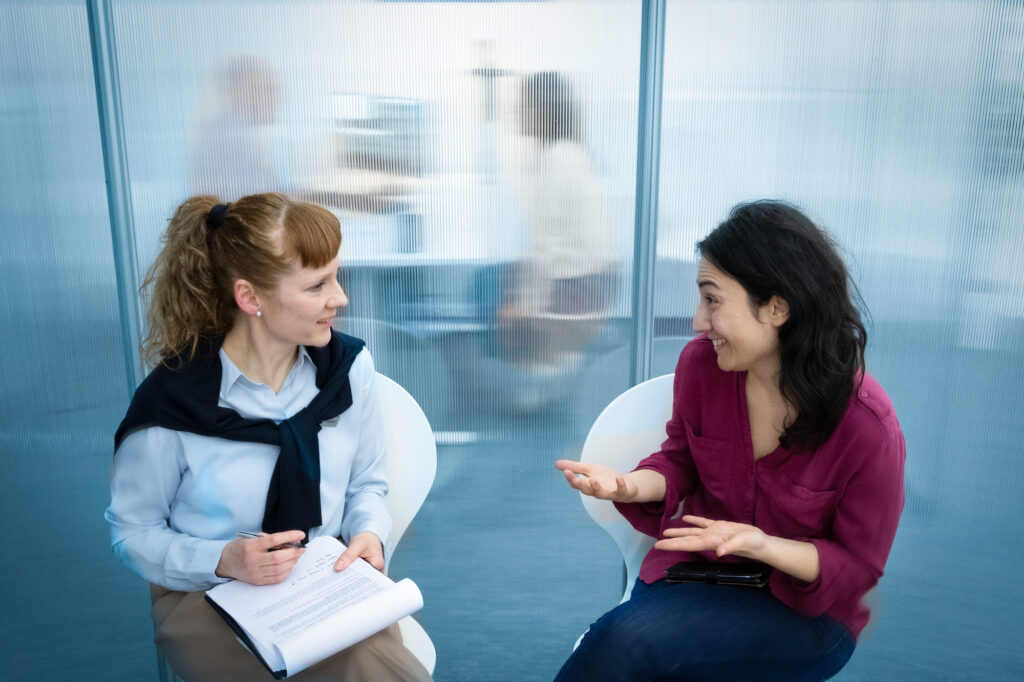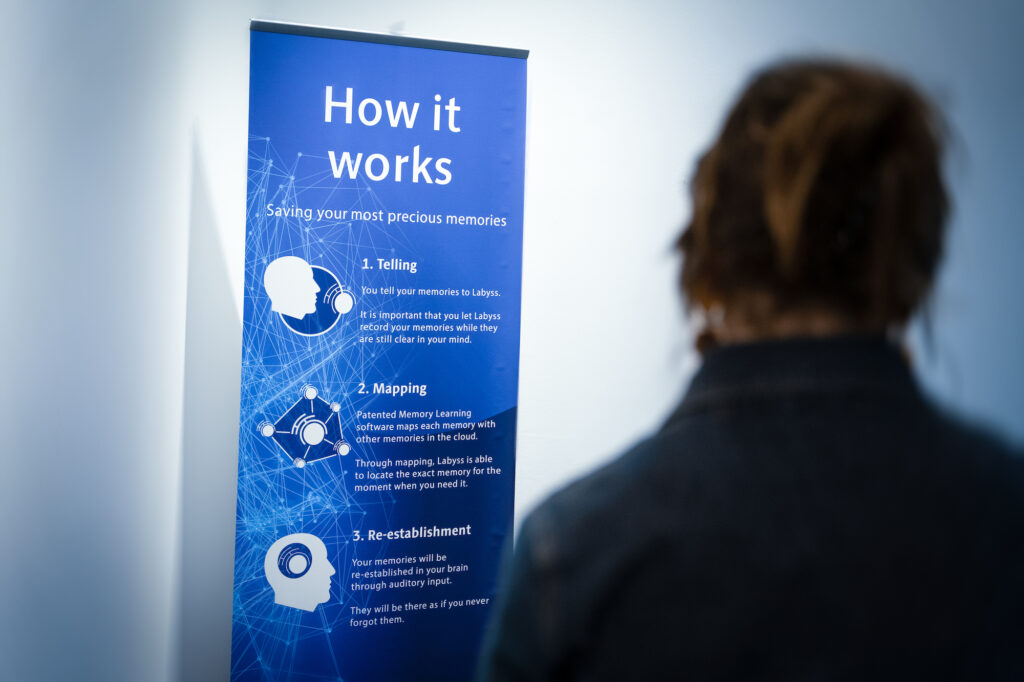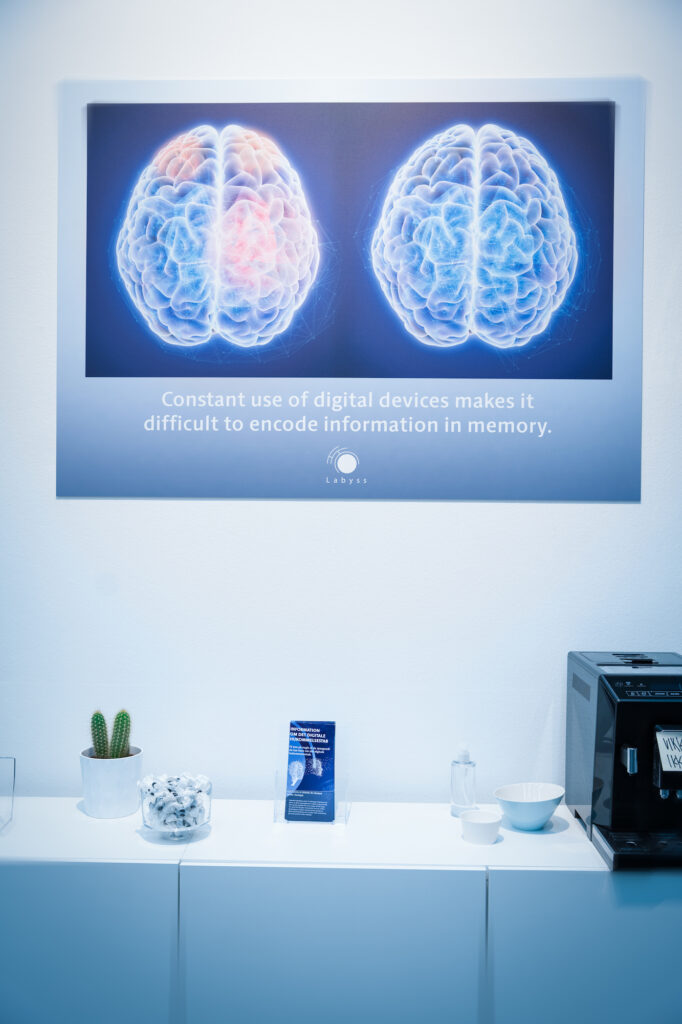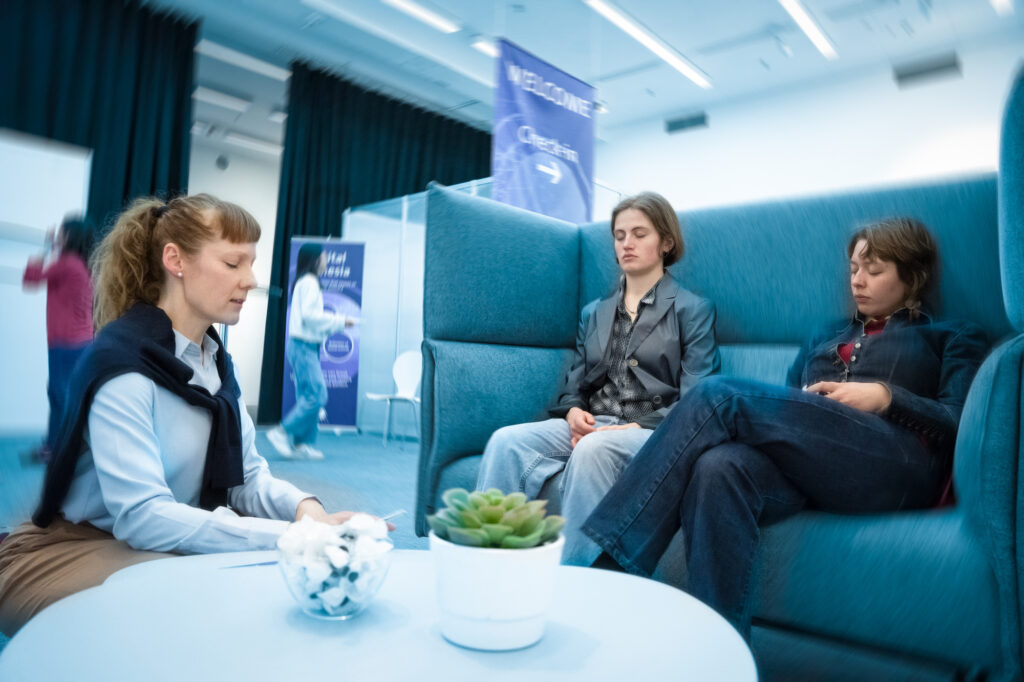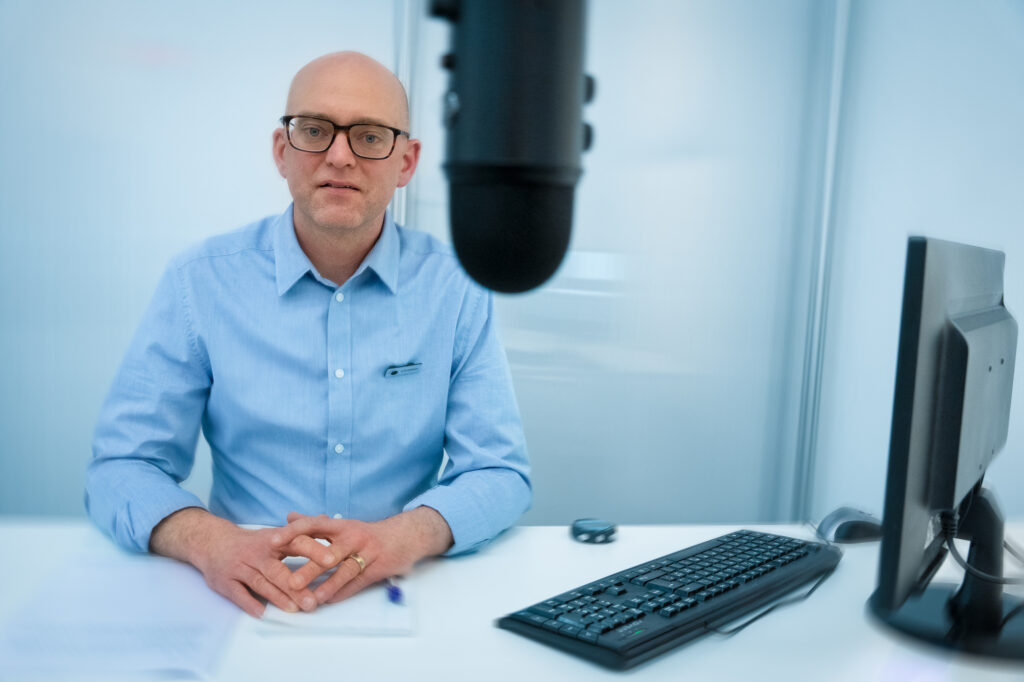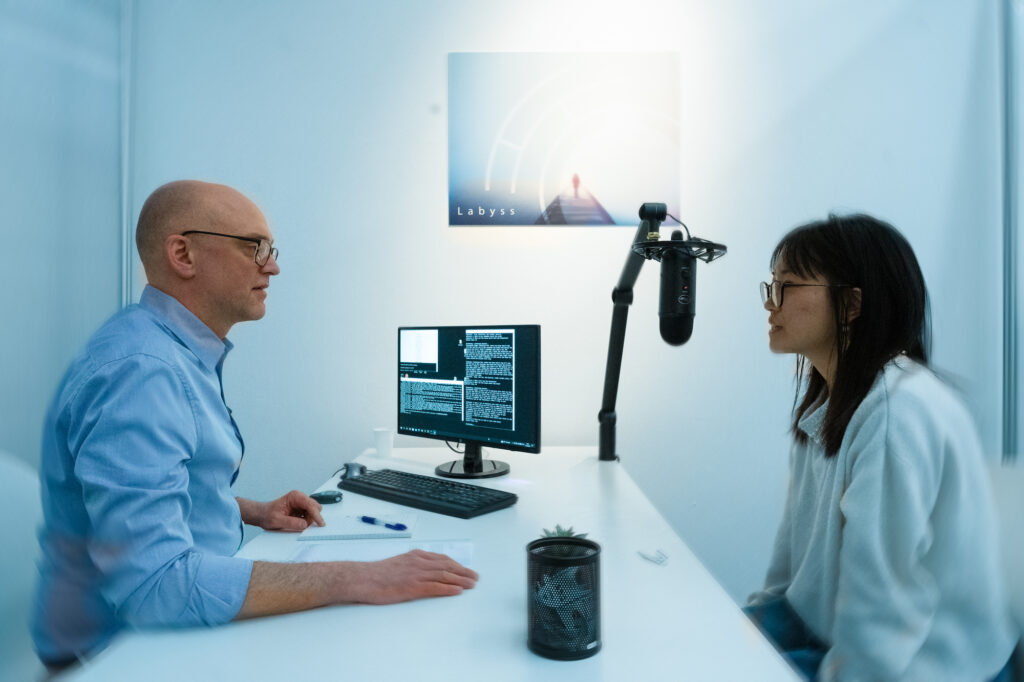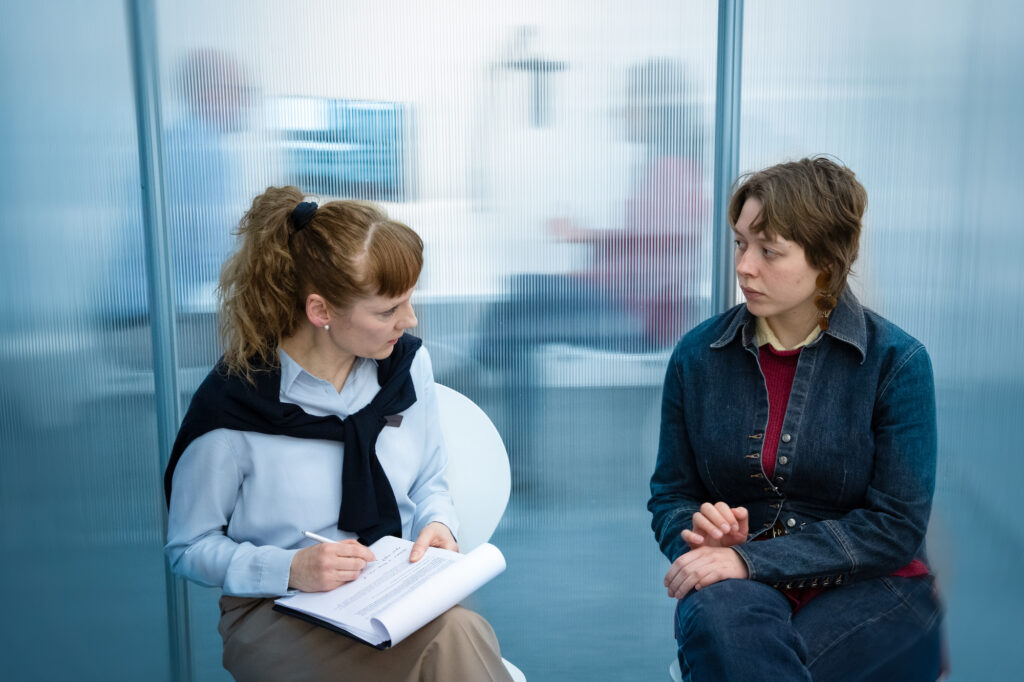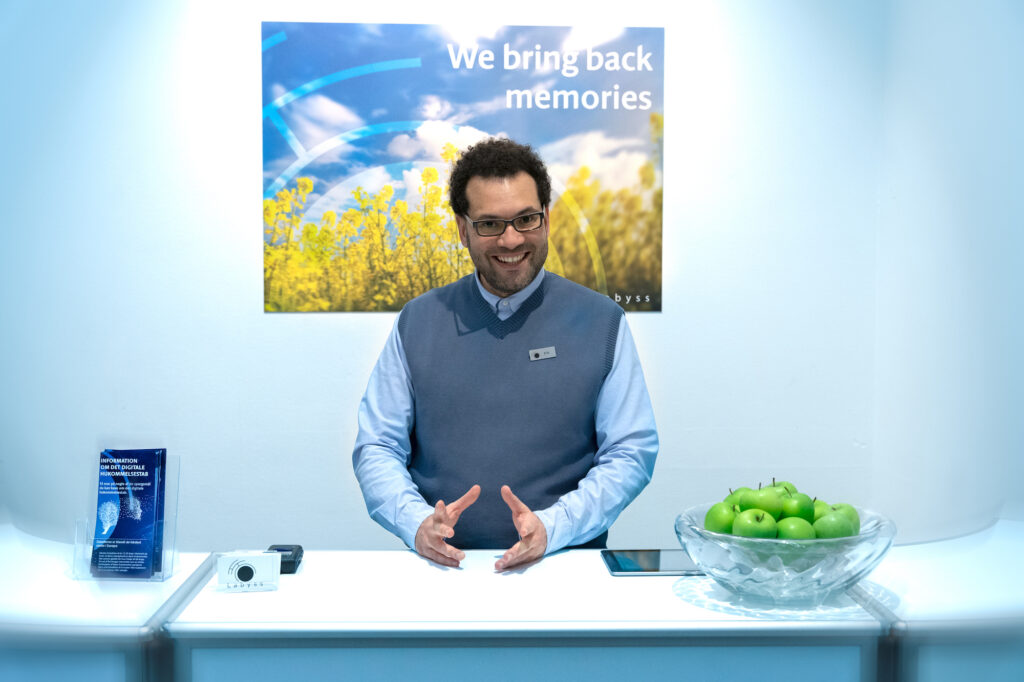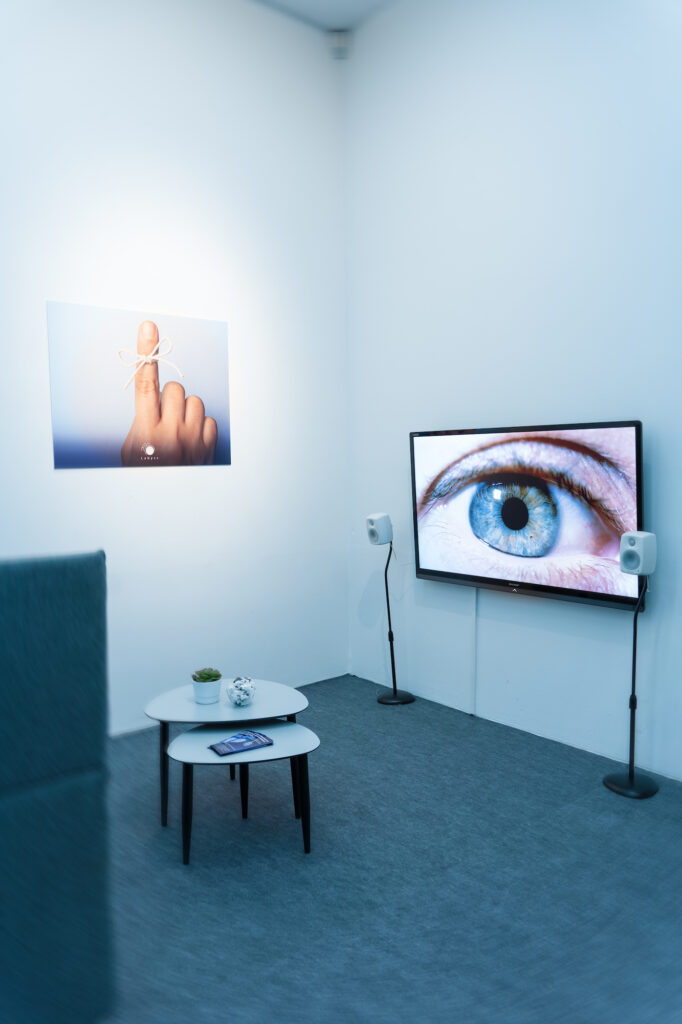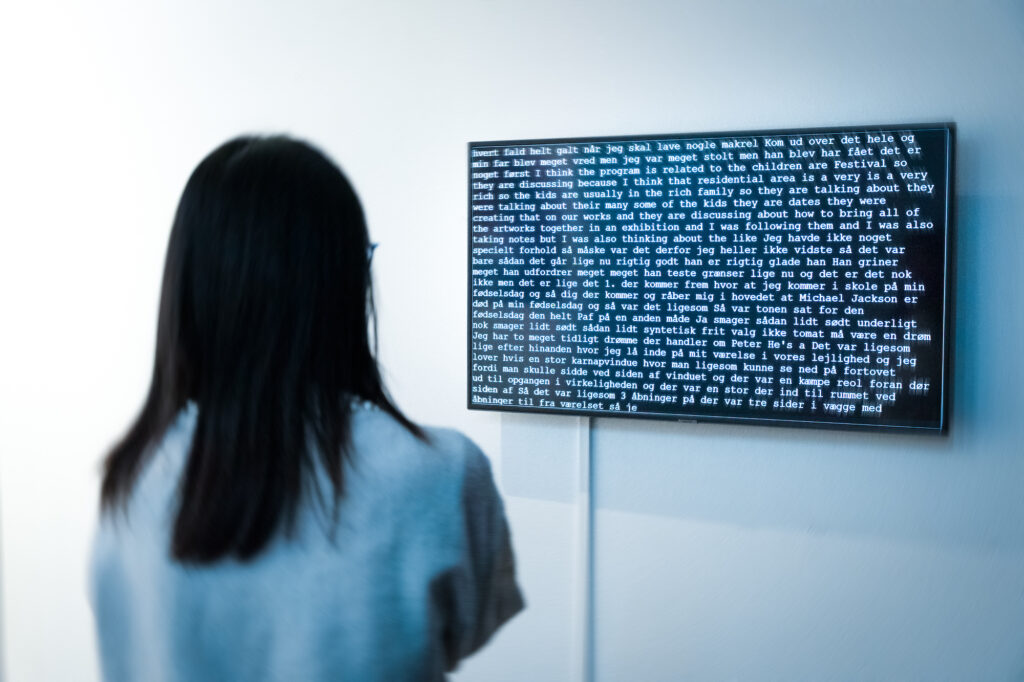 Idea & concept
Det Algoritmiske Teater
Text and staging
Kristian Byskov & Kristian Husted
Dramaturge
Pernille Kragh
Performers
Lisbeth Sonne Andersen & Christian Rossil
Creative programmer
Esbern Torgard Kaspersen
Technology & interaction design
Kaspar AI
Installation design
Ana Lumack
Music & sound
Kristian Hverring
Video performers
Ida Ellinor Hermansen & Jesper Friis
Co-production
Det Algoritmiske Teater & TOASTER
Photographer
Christian Brems
Location
Den Frie, Salene
Time
24/3-16/4 2023
Genre
Interactive, performative installation
Labyss
by
Det Algoritmiske Teater
Slowly but surely we lose the ability to remember. Although it seems harmless now, soon we won't be able to remember important events in our lives without help. At Labyss, we use the latest technologies in algorithms and artificial intelligence to revive and store your memories. In this way, you will be able to face your old age confidently with your life memories well preserved. Your memories are your life. Take care of them! – advertising for the tech company Labyss
What about you? How many phone numbers can you remember on the top of your mind? What about which year what happened? Do you often Google the same information over and over because you can't remember it in your head?
Then you are not alone. Research shows that most of us cannot remember the telephone number of our partner or workplace. We are increasingly leaving the work of remembering to our smartphones, tablets and computers – to the cloud. The cloud has become our memory, an online extension of our brain. Digital amnesia is spreading among us like a new kind of epidemic. Soon we won't remember our essential building blocks: the memories we shape our lives after, which make up our collective memory.
Labyss is a fictive Danish startup that develops an artificial intelligence that can store memories. Your memories.
Come in and share your memories with Labyss before it's too late. Max 5 people per show. Large groups – contact Den Frie.
NOTE: Part of the performance requires informed consent in connection with data processing
Language: It's possible to experience Labyss in both Danish and English. Duration is 50 minutes.
Det Algoritmiske Teater is a part of Toasters extended partnerships – Read more
ORDER APPOINTMENT
Idea & concept
Det Algoritmiske Teater
Text and staging
Kristian Byskov & Kristian Husted
Dramaturge
Pernille Kragh
Performers
Lisbeth Sonne Andersen & Christian Rossil
Creative programmer
Esbern Torgard Kaspersen
Technology & interaction design
Kaspar AI
Installation design
Ana Lumack
Music & sound
Kristian Hverring
Video performers
Ida Ellinor Hermansen & Jesper Friis
Co-production
Det Algoritmiske Teater & TOASTER
Photographer
Christian Brems
Supported by